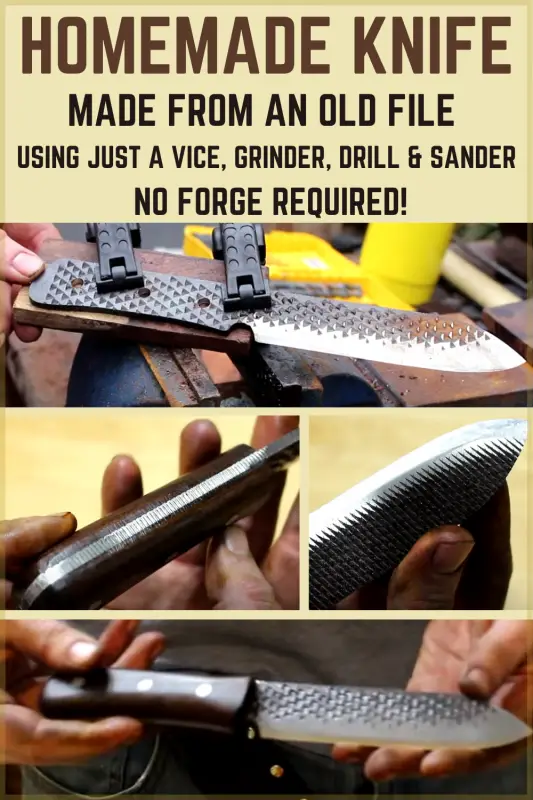 Mora Knives aside, it can be difficult to find an affordable, quality bushcraft type survival knife. Mora knives are very cheap and very highly regarded, but they are not full-tang knives, which means the blade steel does not travel through to the end of the handle. A full-tang knife is always preferable as it is much stronger, and even if the handle breaks, the remaining steel shaft can be wound with paracord or replaced. If the knife is not full-tang and the handle breaks, the knife is all but useless.
So what's the answer? Well, you can try your luck with cheap full-tang knives, or you can easily make your own bespoke full-tang bushcraft knife from a metal file. The excellent video tutorial below from Outdoor Boys YouTube channel (I highly recommend subscribing! They put out some amazing video tutorials) shows how to make a homemade full-tang, high-quality knife from an old file/rasp. The best thing about this knife making tutorial is the minimum tools/equipment required — literally all you need is a bench vice, a hand grinder, a drill, and a belt-sander. You can even do away with the belt-sander if you don't have one! There are a couple of clamps used to fit the handle, but at a push, you could easily just use the bench vice for this.
Tools aside, the other great thing about this knife/tutorial is that you do not need a forge to make this knife! That's right, no forge, you heard me right. If you do a bit of DIY, you likely have everything you need already! This would make an awesome weekend project, check out the tutorial below. The tutorial also covers making the sheath.
One thing that came to mind when watching this tutorial – you could easily skip making the beautiful, but the time-consuming wood handle. Instead, you could make a simple paracord-wrap handle. This would save time and also allow you to always carry a length of paracord with you.