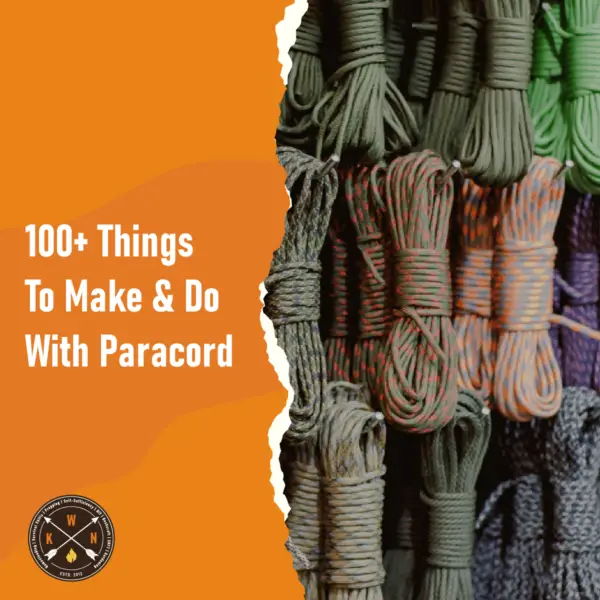 Paracord: 101 Uses
101 Uses of Paracord - Survival, Homesteading and Zombies
You probably hear the word "paracord" a lot when you are studying survival training. It has achieved such an elevated status you would think paracord could single-handedly save a person and do the dishes all at the same time. While the material is pretty fantastic, it isn't going to miraculously save anybody.
If you have done any research into survival training, you have probably heard numerous so-called experts touting the merits of paracord, including the fact, there are over 100 uses for the strong rope. Unfortunately, those experts tend to only tell you or show you a handful. How much good does that do you?
For those who are sitting there thinking, "parawhat?" let me explain how valuable this tool truly is. You are probably familiar with the all-encompassing uses of duct tape. The same theory can be applied to paracord, which may also be referred to as 550 cord. The name comes from the idea the cord has a breaking point of 550 pounds.
So what is paracord? The cordage was originally used in parachute construction, hence the name. Because it was intended to be used as a strong, but lightweight cord that is easily compacted and most importantly, reliable, it has become a hot commodity in the world of survival. It is so lightweight, you could literally carry 100-feet and never even notice.
Now, let's get into what makes paracord so special. It is typically made of nylon. However, there are some types on the market that have been constructed with Kevlar. Seven inner strands are wrapped in a sheath to produce this highly-coveted tool. Each of those strands has a breaking strength of 30 pounds. Part of the reason paracord is so desirable is the fact you can separate the cord if needed.
Let's refer back to the paracord's strength. Keep in mind, breaking strength is not the same as working load. An easy way to remember this is a 5/1 ratio. If you need to lift 500 pounds, you would need cordage with a breaking strength of 2500 pounds.
As with almost anything on the market today, not all paracord is created equal and may not be constructed with the above-mentioned qualities, therefore making it a substandard product. Only buy military-strength paracord. If you are as excited about paracord as the rest of the survival community, check out the video to see 101 ways you really can use paracord.
How To Make A Paracord Survival Bracelet
How To: Paracord Survival Bracelets
Excellent video showing how to make your own paracord survival bracelet.
Do you know what? I am betting you are thinking it's going to be difficult to do… If you follow the video you'll see it is actually very easy to do. Surprisingly easy actually.
If you are going to bother making one, make sure you make it with the official 550 paracord, as used in the military
. Don't use the cheaper stuff, get something you can rely on.
Make A DIY Paracord Watch Strap
I have done several posts about the uses of paracord and paracord bracelets. You can of course make your own paracord bracelet but if you are not into wearing an additional bracelet, how about making a paracord watch strap instead?  If you are anything like me, you're saying – why didn't I think of that…  A paracord watch strap, it is so obvious.
Anyway if you think it's a good idea and you'd like to give it a go, head over to the Instructables website below and check out the detailed tutorial.
Make A Paracord Belt With Carabiner Buckle
Paracord bracelets are particularly popular with preppers and those who practise survival skills. Paracord key-fobs and watch straps are also popular.
Whilst all of these a very useful, the amount of paracord you can carry is very limited.  With this in mind, how about making a paracord belt!  It's a win, win, as a paracord belt can look really smart if you purchase a nice belt buckle (this belt is a bit more tactical and functional with a carabiner buckle) but the really great thing about a paracord belt is that it can hold over 100 feet of paracord!  That's right – 100 feet of paracord in one belt, that's always with you.
If you are interested in making a paracord belt, head over to the Instructables website and check out mobiobi's tutorial.
Make A Paracord Belt With Carabiner Buckle
How To Make Paracord Handcuffs
A lot of us don't carry handcuffs or even own any. If you were in an emergency situation and you needed to hold someone either for your family's safety or to immobilize them so you could get away, chances are you will have paracord on you somewhere.
These are actually quite simple to make and I would carry a few ready-mades in my EDC kit or bug out bag. See how to make these below
How To Make Paracord Handcuffs
Make An Awesome Hanging Chair From Some Paracord & A Pallet
This is a brilliant idea, a great hanging chair made from a free pallet and a few dollars worth of 550 paracord.
I have done several posts about reusing old pallets. I have compiled some of these into a post: 160+ uses for pallets  I think this hanging chair might be the best of the lot though, as not only does it serve a purpose, it also looks awesome.
If you'd like to see how to build one yourself, head over to the Instructables website via the link below and have a look at the very detailed tutorial.
Make A Paracord Laced Pallet, Hanging Chair
If you are going to make one, make sure you use the official 550 paracord, as used in the military
. Don't use the cheaper stuff, get something you can rely on.
How To Make A Paracord Cross (Pendant / Necklace)
Everyone knows how useful paracord can be in a survival situation, and many of you have paracord bracelets, but today we've got something new to share…
These make excellent pendant style necklaces, or alternatively, you could hang one from your vehicle's rear-view mirror.  It's a great way to keep 24 feet of paracord handy, just in case of emergency.
Check out the video below and get making. One of these would make an excellent gift for a loved one! 
How to Make a Paracord Cross (Necklace) by TIAT