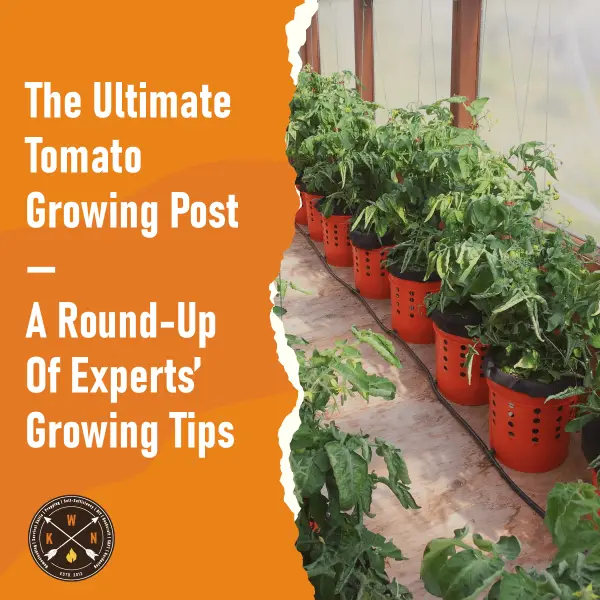 This post is a round-up of smaller posts that were previously featured on Knowledge Weighs Nothing. (I am slowly going back through KWN and tidying things up and removing lots of old/dead posts etc). I have compiled several older tomato growing/preserving posts here in one place to make it simpler to find these excellent tomato growing and preserving tips and tricks. Take your tomato growing to the next level!
DIY Self Watering Alaska Grow Buckets
The Alaska Grow Bucket is the easiest self-watering container system that anyone can use to grow their own food. Alaska Grow Buckets use capillary action of a soil-less grow-medium to draw water from below up to the plant roots. The good thing about this design is there is no pumps, no electricity and best of all, you grow your own food. Become more self-reliant and build one this summer. Find out more here.
How To Grow 50-80 lbs Of Tomatoes Per Plant
High Yield Tomato Plants: 50-80 lbs per Plant
That's right – 50 – 80 pounds of tomatoes PER PLANT! That's amazing, you could grow a huge amount of tomatoes in a really small space. This is useful for everyone regardless of how much space they have for growing food, but it is especially useful for people with limited growing space. Watch the video above and see how it's done.
One Man's Genius Idea For Growing A Huge Tomato Crop
James over at hometalk.com has come up with an awesome way of growing bumper crops of tomatoes with very little effort. James came up with an innovative way to water and feed the tomatoes using a garbage bin. Not only does it result in huge tomato crops, but it is also a much easier way to grow tomatoes as you only have to water them every 2-3 days.
You could use this method to grow tomatoes outdoors or in a greenhouse (if you plant into the ground in your greenhouse). This method is genius in its simplicity, so head over to Home Talk on the link below and find out more… You could probably grow cucumbers and peppers using the same method too! Read James's post here.
Combat Tomato Blight With Copper Coins
I refuse to use pesticide, insecticide and anti-fungal spray on my fruit and vegetables. If I want to eat foods containing these, I'll just get them from the supermarket…
The problem is – my reluctance to use chemicals has cost me my entire tomato crop for the last two years! I also lost most of my potatoes last year as well. I lost both crops due to blight.  Most people don't realize it, but potato blight and tomato blight are exactly the same. The blight is the same fungus called: Phytophthora infestans.
Many people think that the coin/blight trick is a myth; I can tell you it is not. It works, but only if you use coins produced before 1982 as these have more copper in them and it is the copper that stops the blight. The copper/coin tip might not completely stop the blight, but it may slow it down long enough for your affected tomatoes to ripen. Read the post in full here.
Homemade Monster Tomato Fertilizer Recipe
Do you want to use natural fertilizer on your plants and vegetables? I know I do. I found a great article showing you the recipe for "monster tomato fertilizer" I know I will be trying this. It's really simple to make and all-natural. I'm thinking about using this recipe on my flowers too, see if I can win any competitions. Find out more here.
How To Correctly Plant Tomato Plants To Get 8 Foot Plants
I think it is fair to say that if you garden and grow your own food, you grow tomatoes. Problem is – if you're like me, your tomatoes don't always do as well as expected. Some years we have amazing crops of tomatoes and don't know what to do with them all but last year, for example, we got hit badly by tomato/potato blight and we lost 90% of our crop.
Now whilst there isn't a great deal you can do if it is a bad year for blight, there are things you can do when planting your tomato plants which will all but guarantee huge healthy plants with an abundance of fruit. Also, if you follow this method of planting, your tomato plants will be so much stronger and healthier, they may be able to resist the tomato blight fungus that little bit longer which could enable you to harvest the crop before it fails. Check out this link for this awesome tomato planting tutorial from 'Love Apple Farms'.
How To Build The Ultimate Tomato Or Pepper Cage For Under $2….The Stake-A-Cage
The support of a 4′ long wooden stake – attached to an open-faced wire mesh grid. Strong and durable and cheap! It combines the durability of staking tomatoes with the ease of a cage.
 Better yet, by keeping the wire grid flat and not making a true cage – you can tie your tomatoes easily to the grid – and when it comes time to pick – you won't have to reach through the cages to get to the goods. Click here to see the full article and see how you can make your own " Stake A Cage"
Very Quick & Easy Way To Make Homemade Sun-Dried Tomatoes
Sun-dried tomatoes are delicious and they really do bring dishes and snacks alive. I am sure more of us would eat more sun-dried tomatoes if it wasn't for the fact they cost a fortune at the store. Sure, some of you live in climates where you can actually sundry your tomatoes outdoors in the traditional way, but this method takes quite a bit of effort and takes days to completely dry out the tomatoes.
There is an easier way! You can make sun-dried tomatoes in a food dehydrator or an oven. Wait I hear several people shouting that these aren't sun-dried tomatoes… Interestingly around 90% of sun-dried tomatoes from the store are not actually dried in the sun! I guarantee you that if you follow this tutorial, you'll end up with the most delicious sun-dried tomatoes you have ever tried, AND you'll save an absolute fortune over buying them from the store.
Dehydrating Tomatoes 101
Dehydrated tomatoes taste amazing!  The problem is when you grow your own tomatoes the year usually goes like this – nothing, nothing, nothing and then loads of tomatoes in one go!
Tomatoes are so healthy, tasty and versatile it is a crime to ever waste them. Sure you can make sauces etc but I think one of the best ways to preserve tomatoes is to dehydrate them. If you don't have a dehydrator because you think they are too expensive, then get one of these at just $35. For the price, it has amazing reviews…
Here is an awesome tutorial on how to dehydrate tomatoes from Bev Cooks, check it out and the next time you have a glut of tomatoes or they are on offer at the store, get dehydrating!
(Original Images –Bev Cooks, Wikipedia, Love Apple Farms, Muffet, TheWalden Effect, Home Talk, LDSPrepper, oldworldgardenfarms.com, chateau-listeur.blogspot.ca)