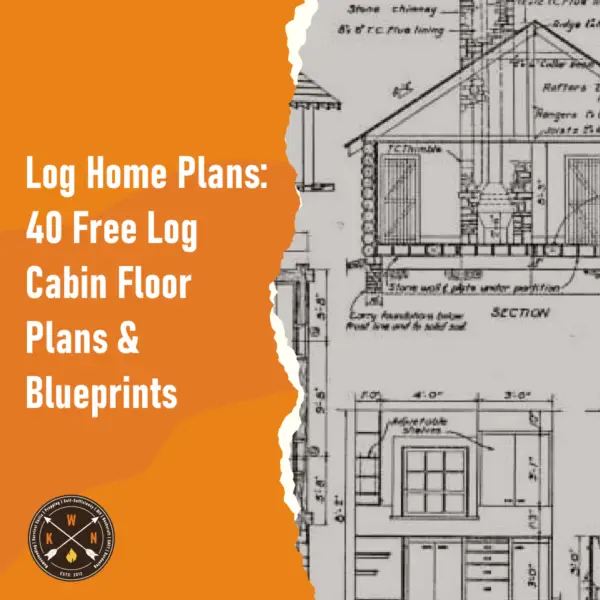 You can spend $100s on professional log cabin plans and blueprints, but before you do, take a bit of time to check out the free cabin plans featured below, as they might just save you a ton of money. If nothing else, these free cabin blueprints will give you lots of information and ideas for your own cabin, should you decide to get some professional cabin plans drawn up.
A log cabin or timber/log home is not only a versatile and cost-effective living solution, but it is also a great way of creating your own low-cost home or retreat (especially with these free log cabin plans and blueprints!) that you can build in a wide range of spaces and environments. See down below for the free log cabin floor plans and blueprints.
DIY log cabins are relatively simple to construct yourself (especially with the free PDF cabin plans below), providing you have the appropriate tools, quality materials, manpower and of course, knowledge.  Trust us, there's no better way to embrace sustainable living!
When constructing a log home from scratch, it's important that you follow (and stick to) step-by-step instructions that detail and outline how to create a structurally sound DIY cabin, allowing you to create your perfect log home that is able to withstand the harshest environments. After all, it's paramount that your DIY log cabin is safe, sturdy and resistant.
So here, we've compiled a list of some of the best DIY free log cabin floor plans available online, demonstrating every step of the production process, from start to finish. Outlining clear and concise construction methods, the plans will allow you to create a durable, rigid and accessible log cabin that is able to accommodate your exact requirements.
But, before you go any further, it's important that you understand exactly what you want to get out of your self-build DIY cabin. Log cabins, like any structural living space, come in all shapes and sizes. From intimate spaces through to cabins that are able to accommodate large groups, there are lots of options to choose from! Oh, and you'll be amazed at the wealth of facilities, home comforts and unique features available.
Of course, this also means that when it comes to building your self-built cabin, difficulty levels vary and, although many are relatively simple to construct, others are far more complex requiring specialist skills and expertise.
So ask yourself, what will you use your log cabin is for?  How often do you plan to use it? What type of environment will your log cabin call home?  All of these factors will have an impact on your choice of design. After all, if you only plan to use your log cabin a few times a year, a more basic design may suit your needs better as opposed to a cabin that you plan to use every weekend, or every day!
Once you've made up your mind, the next step is to get building. Here are some of the best DIY log cabin blueprints and plans that are available online, and best of all, they're all free! So why pay someone else to draw up expensive build plans for your log cabin when these log can plans are totally free?
Free Log Cabin Plans And Blueprints Be Here…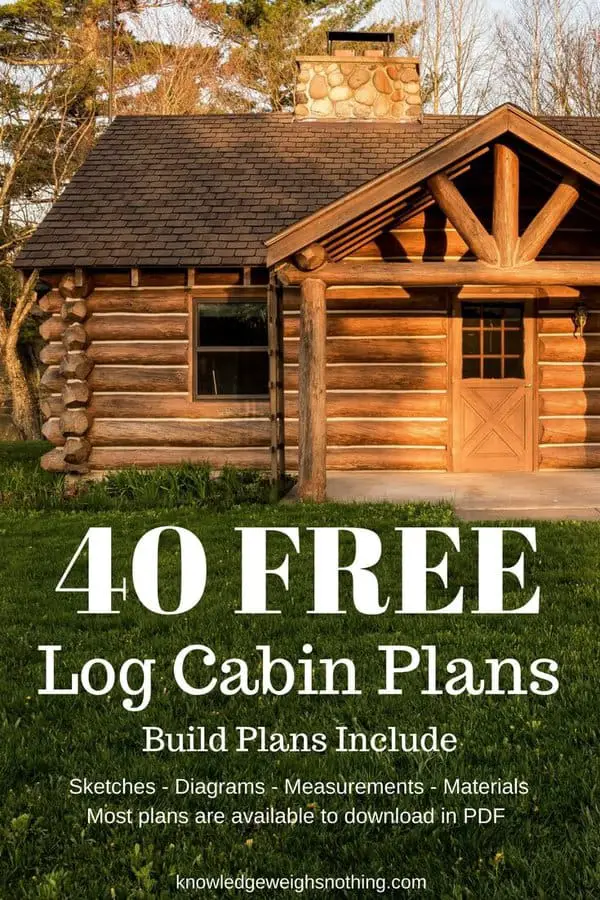 Free Log Home Plans PDF: Two-bedroom log home (with loft and basement)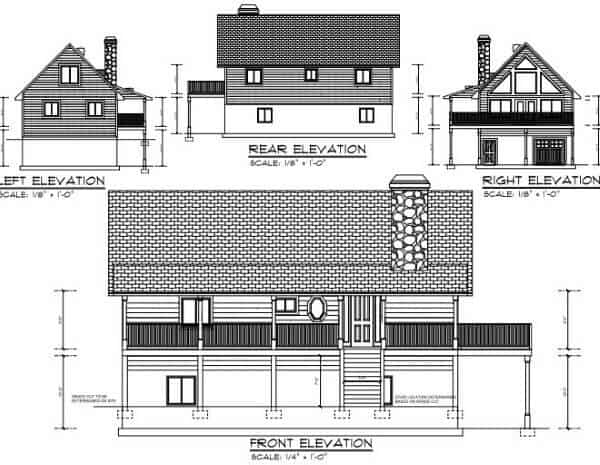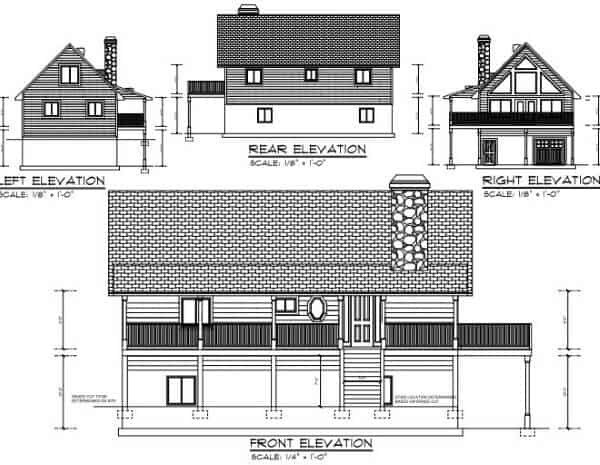 If you're looking to create a spacious, family log cabin, then this two-floor two-bedroom contemporary cabin, with loft space and basement, then these are the free log home plans you've been looking for.
Offering ample storage, living and practical space, this accommodating cabin features a master bedroom and an additional bedroom space that lends itself perfectly to being used as a guest bedroom or a space for your little one.
Also featuring all the facilities that you would expect to find in a liveable home, this plan also features an adequate kitchen, dining, laundry and living room space – making it ideal for entertaining or kicking back and relaxing.
But this design's standout features have to be its loft space and outdoor porch area. The loft space offers more than enough room to store away sports equipment, your seasonal clothing and anything else that can leave your home feeling cluttered and unorganised. The outdoor porch area is also a great addition to this cabin, providing the perfect area to soak up the summer sunshine or snuggle around a roaring fire during the colder months.
You can download these free log home floor plans PDF here:  http://www.todaysplans.net/CabinsAndSheds-Cabin1.pdf
Free Log Cabin Plans: One bedroom cabin with loft and porch
I know – these are supposed to be log cabin plans, but this is concrete block cabin is another option to add to the mix.
Although this attractive one bedroom concrete block cabin loft and porch only offers one bedroom, it is perfectly equipped to accommodate larger family gatherings.
Offering a large family room, bathroom and dinette, this log cabin is great for accommodating short breaks and longer stays, it would also make a great family home for couples.
The addition of the covered porch also adds another dimension to this cabin, providing the ideal spot to kick back and relax season to season. You also don't have to worry about storage, as it comes complete with a spacious loft space that will easily accommodate mass storage.
You can download the free cabin floor blueprints PDF here: http://www.todaysplans.net/CabinsAndSheds-Cabin3.pdf
Free Log Cabin Blueprints: Two bedrooms "A" frame cabin
 This two-story "A" frame cabin house comes complete with two spacious bedrooms, a large living/dining room, a balcony and porch, as well as an accommodating kitchen and bathroom.
Offering a distinctly rustic feel, this charming build is bursting with character and will enable you to create a space that is finished to the highest standards.  Featuring durable wood flooring and a sturdy ladder that takes you up to the second floor, the frame of this log cabin is typical of many traditional structures.
You can download the free log cabin plans for this cabin PDF here: http://www.lsuagcenter.com/NR/rdonlyres/AFC60E41-A8F6-4C45-ABE3-5D34AD0679B9/15503/24AFrameCabin.pdf
Free Log Home Plans PDF: 1 Bedroom Guest House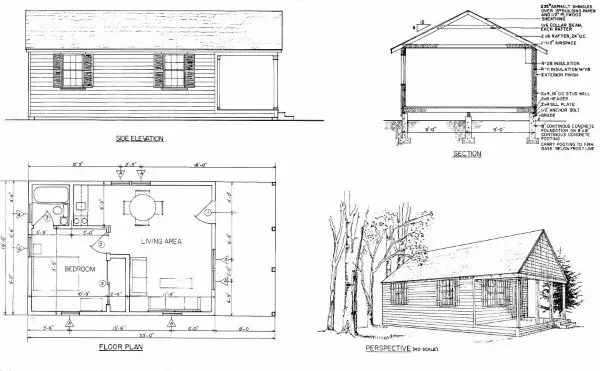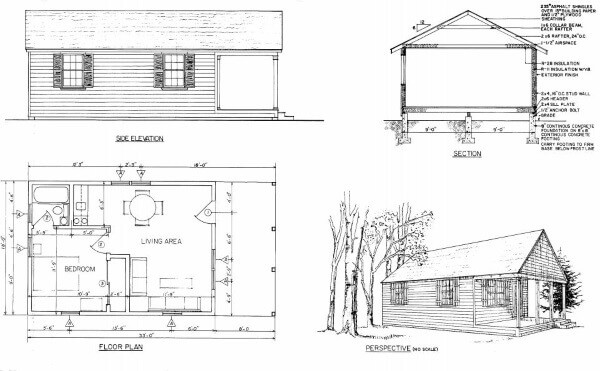 A log cabin lends itself perfectly to creating a guesthouse that is inviting, comfortable and bursting with character, especially if you are pushed for space in your home. Obviously, if you entertain guests on a regular basis, a guesthouse also offers far more privacy and space than guest bedrooms inside your home.
This spacious 1 bedroom guesthouse cabin will allow you to build a practical living solution that will make the ideal guesthouse.
Boasting a large spacious bedroom, a sizable main living area and a bathroom, this plan will help you to build a practical living solution that is cost-effective, durable and resilient. It can also easily be integrated into your property's outdoor land. In fact, many people position their guest cabins in their back yard! Of course, this set-up is also perfect for other purposes, such as a cool hangout den for teenagers or a tranquil retreat for you to escape the chaos of the house from time to time.
Before embarking on any build, it's also recommended to check your local building codes criteria!
You can download the free log cabin floor plans PDF for this guest house here: http://www.ag.ndsu.edu/aben-plans/5185.pdf
Free Log Home Floor Plan:  Pole Cabin With Heating
This 24/32, two-bedroom wood frame cabin is plenum heated, making it perfect for building a comfortable, warm family home.
Attractive inside and out, this inviting cabin boasts all the everyday facilities that you would expect to find in your home.
Featuring two spacious bedroom areas, which could easily accommodate two single beds in each room, a simple yet functional bathroom suite, as well as a large kitchen/diner area, this plenum heated cabin is great for the weekend and full-time living.
You can download the free log home floor plans PDF here to create this build yourself: http://www.lsuagcenter.com/NR/rdonlyres/BCB7C088-B906-4FF0-BA7A-3E05753AC194/15591/5997PoleCabinWPlenumHeating.pdf
Free Tourist PDF Log Cabin Floor Plans
Log cabin living is extremely appealing to tourists, as it not only gives them the opportunity to experience a new way of living, in new and exciting surroundings, it also offers a comfortable retreat for them to relax and unwind.
In recent years, tourist cabins have continued to increase in popularity and, in response to growing demands, they have become more accommodating and functional than ever before.
This open porch tourist cabin is small yet highly spacious, making it the ideal, intimate retreat for couples, or even solo visitors looking for a comfortable space to collect their thoughts.
These design plans show an open plan space that features ample room for a bed, bathroom and closet space. However, one of the main advantages of this particular cabin is that it has its very own large porch area, making it ideal for those who enjoy the outdoors.
You can download the free log cabin PDF floor plans for this cabin here: http://www.ag.ndsu.edu/aben-plans/5184.pdf.
Free Log Home Floor Plans PDF: 5 room log cabin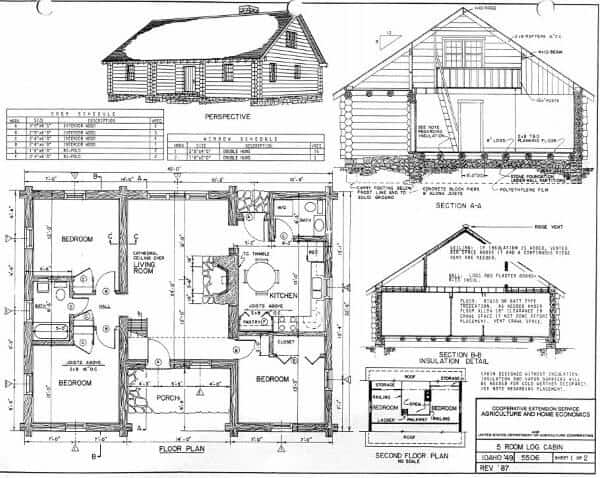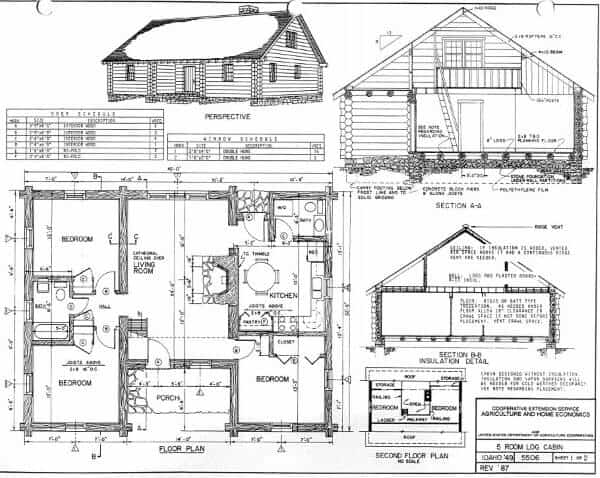 Perfect for large families or group vacations, this spacious 5 room log cabin boasts 5 large bedroom areas that are all super comfortable and extremely spacious.
Bursting with the character you would expect to find in a traditional log cabin, this log cabin design features two bathrooms, a large kitchen and dining area, as well as a main living area with an open log fire – another dimension that creates a striking focal point.
Other interesting design elements include a cathedral ceiling over the living room, a large walk-in closet, and an inviting porch area.
You can download the free log home plans PDF for this cabin here: http://www.ag.ndsu.edu/aben-plans/5506.pdf
Free Log Home Floor Plans PDF: Buffalo Run Series
This impressive family orientated cabin offers an inviting, functional and comfortable living solution that is perfect for everyday family living.
Boasting luxuries such as a large master suite, a huge kitchen and dining area, as well a spacious loft, this 3 bedroom log cabin features a total living area of 5714sq.ft – with the main living area being 3161 sqft and the loft and storage areas being 2553 sq.ft.
You can view/save/download the PDF log home floor plans here: http://whispercreekloghomes.com/wp-content/uploads/2013/07/buffalorun_01.pdf (this link seems offline, so I have removed the live link. Feel free to try copying/pasting to see if it is now working)
Free Cabin PDF Blueprints: 16 x 20 Cabin with Bunk Beds
This design features a 16×20 cabin that also accommodates 2 tier bunk beds.
Smaller than the other designs, this compact cabin provides ample home comforts, that make it a safe and reliable cabin, perfect for accommodating guests – particularly children who love the idea of sleeping in bunk beds!
Featuring a stove, wood flooring throughout, and a spacious living area, this cabin is great for overnight stays or short visits.
You can get the free PDF log cabin floor plans here: http://www.lsuagcenter.com/NR/rdonlyres/1741C101-A6C6-4C05-BF47-7B96E4B0F985/15610/600416X20Cabin.pdf
Free Log Home Plans PDF: 2 Bedroom, 1 Storey Log Home with Open Porch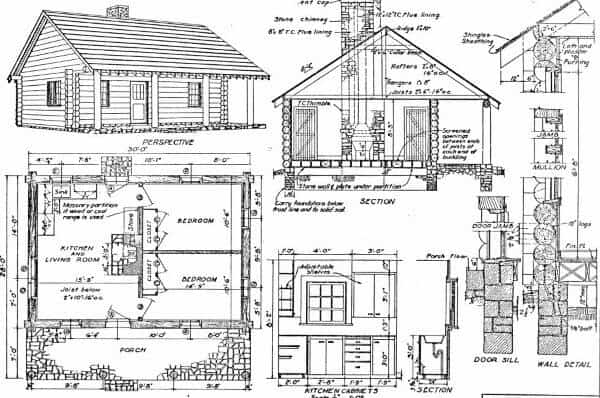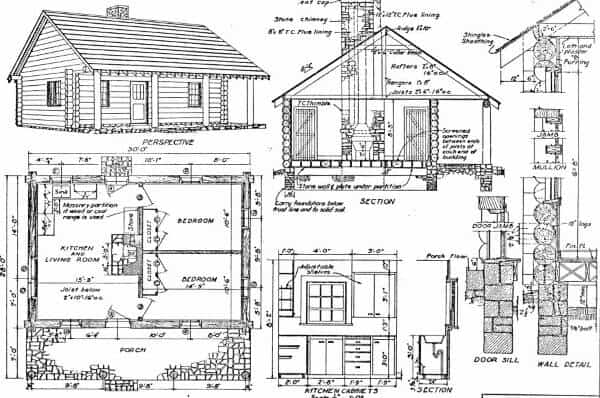 This perfect family living solution features 2 large, spacious bedrooms with large closets, an inviting open porch and plenty of character.
With its 1 story design, this comfortable log home will open your eyes to a compact yet spacious design that will give you everything that you need in a family home and more.
Boasting ample space to entertain and relax with family and friends, this endearing log cabin even features a large outdoor porch that is great for sitting out and relaxing on, whatever the season. Many people integrate a comfortable outdoor seating area into their design plans when building this log cabin, as a porch is often considered as an outdoor living extension of the home.
You can download or view these free log home PDF floor plans here: http://www.ag.ndsu.edu/aben-plans/5507.pdf
Free Community PDF Log Cabin Plans
This community log cabin lend is perfect for hosting large group gatherings, activities and events.
Its huge assembly room is one of its main standout features, as it provides the perfect opportunity to hold large groups in one space – great if you run community-focused events – its versatility shouldn't be underestimated!
The community log cabin also features an integrated storage space that is perfect for storing sports and activity equipment, props, and arts and crafts equipment. However, if you do not require this, the storage can also be taken down.
Other features of this community log cabin include a large kitchen area, bathroom, and even office space – providing the ideal base to work from. But that's not all, this cabin even accommodates a dressing room and cloakroom, so it's great for hosting theatre performances or assemblies.
You can view and download the PDF log cabin floor plans for this community cabin here: http://www.ag.ndsu.edu/aben-plans/5602.pdf
30+ Different FREE DIY Log Cabin Plans
The list of log cabin plans on the link below includes everything from small single-room log cabins, right through to full-sized family timber homes. There's also everything in between. Given that you can pay $100s for cabin build plans, this is a pretty cool resource.
My recommendation is – if you see a free cabin plan/blueprint you like, download the cabin build plans right away whilst they are free. It's better to download the plans now, but never use them, rather than wish you'd downloaded them and not being able to find them in a year or so. Get them here for free.
Bonus Cabins, Homes And Ideas
Whilst, not strictly log cabin plans themselves, the log cabins and timber homes below detail other people innovative self-build projects. I have included them to give you some ideas on what is possible if you think outside the box a bit.
How To Build A Log Cabin Built For Less Than $500
Cozy Log Cabin- How I built it for less than $500.
$500 for a quality, traditional wood cabin, that's crazy talk, right? Well, that is what I thought until I watched the video above which tells the story about this DIY log cabin and how it was built…
It really does emphasise the power of community, and roping in friends and family to help out on a project. Sure the cabin took eight months to build using free labour, but the whole project cost just $500. Seems an awesome trade-off to me. Watch the video and see what you think.
How To Build A House With No House Payments Or Utility Bills
How to have a home with no house payments and no utility bills!
No house payments and no utility bills, that's the dream, right? Well, maybe that dream isn't as far-fetched as you might think!
The video above shows how one guy built a cabin for $2000, drilled his own well and installed a solar power system which provides for all the electricity needs which cost an additional $3000. One thing to note is that the land he has, which is a little less than an acre, was gifted to him, although he does go on to say he has purchased similar plots of land for around $400. Finally, the last thing to note is that this video was uploaded in 2009, but even if you increase the costs in line with today's costs, this really is a great demonstration of what can be done with a minimal budget and a bit of hard work.
How To Build An Earthbag Roundhouse

A while back I did a post: How to Build an Earthbag Dome this was a windowless dome building that would make a great root cellar or storage shed. Today I am sharing a tutorial to build an earthbag roundhouse, complete with windows and doors.
This is a very cheap and easy way to build a one-room dwelling.  The cost per sq foot of living space is just $11.50; anyone in the construction business knows that is crazy cheap…
The finished house looks beautiful, inside and out. The outside is plastered and whitewashed and it has a thatched roof, have a look and see how nice it looks. I can't see why you couldn't build several of these alongside each other to create a larger multi-room home. Check out the photo tutorial: How To Build An Earthbag Roundhouse
(Photo from: Owen Geiger via Instructables)
How To Build A Dirt Cheap Earth House
If you have always dreamt of building your own house or bug-out house/retreat, but you have been put off by the high build costs etc, this could be right up your street…
The post below explains that by using, and knowing how to build with, locally available natural materials such as earth, small diameter wood, and straw, you can keep expenses to an absolute minimum. In fact, build costs can be as low as $10/sq. ft. With build costs this low, it opens the doors to the possibility of many more of us being able to build our own houses. Find out more: How To Build A Dirt Cheap House
(Photo from: Owen Geiger via Instructables)
Amazing Forest Cabin Built In 6 Weeks For $4,000
This might just be my favourite cabin ever! Can you imagine if this was your weekend and holiday retreat? It would be amazing, I feel less stressed just looking at the photo, let alone spending time there…
The cabin is absolutely beautiful inside and out (check out the sink!), and the crazy thing is that it was built in just six weeks for a budget of $4000. I wish I could share all the photos of the cabin here, so you can see how beautiful the inside of the cabin is, but I can't. But if you click through to 'Tree Hugger' via the link below you can check out all of the awesome photos there. I love the hillside, treehouse-style rear porch! See them here: Amazing Forest Home Built In 6 Weeks For $4,000
(Photo by: Herrle Custom Carpentry via Treehugger)