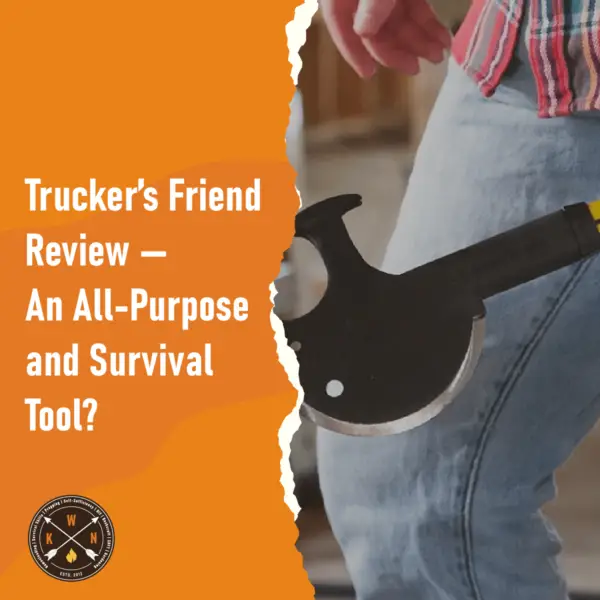 The Trucker's Friend is an all-purpose tool, designed for truck drivers. Basically it does hacking, prying, wrecking, pulling and pounding! It weighs around 2.5 pounds and it is just under 20 inches in length. I think it should also be called Prepper's Friend!  Two HUGE additional bonuses are – it is made in the USA and it is backed by a 'no hassle' Lifetime Replacement Guarantee, very cool!
Here are some of the specifications:
Curved Axe (fully resharpenable)
Hammer and Nail Puller
Spanner (for hose couplings)
Pry Bar and Lever
Tire Chain Hook
Wire Twist (for removing lightweight security seals)
Ice and Debris Remover
Cast Alloy Tool-Steel Blade and Shank (heat-treated for extra strength)
Rust Resistant Matte Finish
Fibreglass Handle (non-conducting)
Shock Absorbing Powergrip
Backed by a 'Hassle-Free' Lifetime Replacement Guarantee
Made in the USA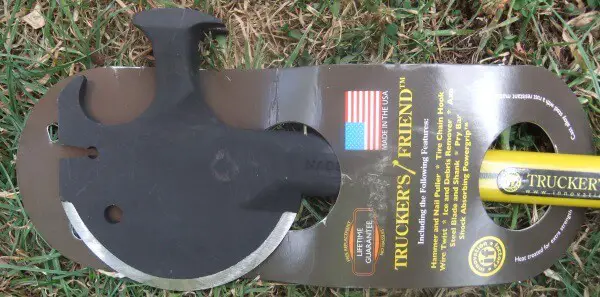 Trucker's Friend Review
The Prepper's Friend, sorry, Trucker's Friend, currently sells at $59.95, which I think is an awesome price given its versatility, quality and the no-hassle replacement guarantee.
I have had my Trucker's Friend for around a month or so now, and overall my thoughts are very positive. It is a truly versatile wrecking machine. It does everything stated, BUT, and maybe this is an obvious point, it doesn't do these things, as well as the individual specialized tools, would. For example, the hammer does its job, but it is not weighted or balanced in the same way a specific hammer is, so you have to use more force to hammer nails etc.
Don't get me wrong – as a prepper/survival tool it is highly recommended. If you want one tool with multiple uses, this is the tool for you. However, for around the home, day to day use, I would reach for a specific hammer or axe first.
A few other things to note – the Trucker's Friend is a very nice length/weight, at 20 inches with 2.5 pounds of weight, it has a nice heft and swing, specifically for chopping/wrecking. The biggest negative is the sheath, which is terrible.  It is made from very cheap thin plastic, and mine was ripped when it arrived. Personally I think this tool should come with a small Kydex sheath which covered the axe blade and fastens around the head. This is not a deal-breaker it is very easy to make a DIY Kydex sheath (search YouTube for tutorials), and this is exactly what I will be doing!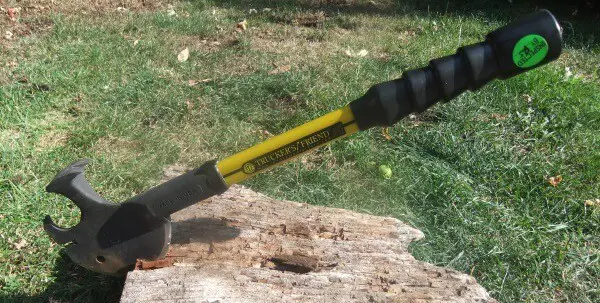 Conclusion
The Trucker's Friend is a solid and dependable, multi-use tool which can also double up as a weapon in an emergency self-defence situation. Its versatility makes it an obvious choice for preppers etc, who are looking for an all-in-one hammer, axe and pry-bar. It costs $59.59, which isn't small change, but I think it represents excellent value for money, especially when you factor it that it is made in the USA and it comes with a lifetime no quibble replacement guarantee. Break it, they'll send you a new one! My recommendation – buy a Trucker's Friend and spend 30 minutes to make a simple Kydex sheath.
Trucker's Friend USA Made All-Purpose and Survival Tool: Purchase from Amazon