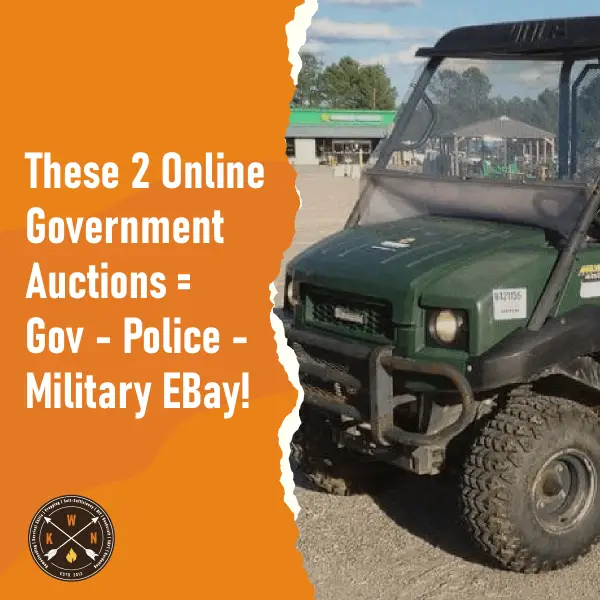 Did you know that you can buy military (plus police and other government depts) vehicles, equipment, and goods via 2 little-known online gov auctions?
The 2 gov auctions featured in this post are official government surplus auction partners, that sell-off surplus government vehicles, machinery, and other goods… Basically, it's police, gov, military eBay!
What Can You Buy At These Gov Auctions?
Pretty much anything a government department has purchased and no longer requires, so that's military surplus, police surplus, surplus from the fire department and other emergency services. There are a load of other smaller government departments and agencies that also sell off their surplus vehicles and equipment too.
Honestly, these government auctions literally sell everything! You can buy a pallet of laptops or tablets (to resell individually on eBay?), a humvee or an ex-military jeep (or a regular Jeep!), an ex-police car (plenty of regular cars!), a fire truck (everyday trucks also available!), a huge range of generators, cargo trailers, clothing, field gear, furniture. You can even buy a school bus, fire truck or ambulance!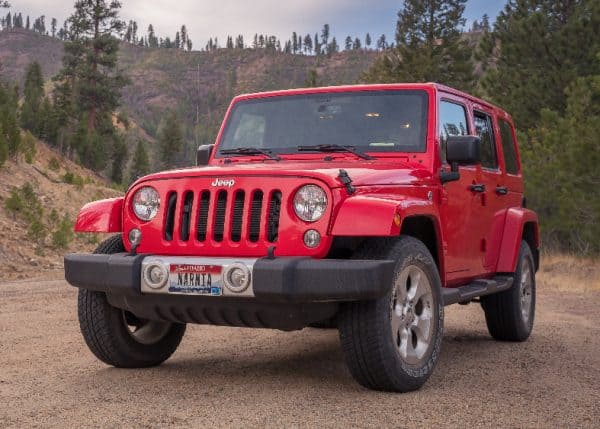 Did I also mention that you can buy seized police goods on one of these government auctions below? Anything (SUVs/vehicles, sporting goods, electronics, jewellery etc) seized during criminal investigations that cannot be returned to a rightful owner is auctioned off to the highest bidder. Often items are sold for incredibly low prices…
Interested? If so, read on and I will tell you how you can find and buy government surplus and police seized goods at low, low prices online.
Firstly though, I should state that there are no military or police weapons available for sale on either of these gov auctions. There is pretty much everything else though, as said – you can buy military vehicles, jeeps, pickups, ex-police cars, school buses, boats, agricultural vehicles and equipment, construction vehicles and equipment, medical supplies, furniture, audio/visual and computer equipment, plus all the usual military surplus clothing and field gear, so stick around…
As mentioned above, many smaller items such as laptops, tablets, cellphones, clothing and field gear are sold off in lots/bundles. They are often sold in bulk on a pallet. Being able to buy items such as these in bulk opens up the opportunity to start a business reselling these goods individually on eBay and Craigslist etc.
Firstly, Why Buy Items From Official Gov Auctions? 
There are lots of positives to buying government surplus via an official government auction, rather than via eBay or Craigslist etc.
Firstly, you can also put your mind at rest as you can be confident that you're receiving your goods from a reputable, official source. This is especially relevant when purchasing seized police goods leftover from criminal investigations.
You can feel confident that what you're buying is the best quality. Buying 'used' isn't necessarily a bad thing when you are buying government vehicles and goods. You will know that the product has been tried and tested and can also stand up to the test of time. This is particularly important if you're buying vehicles. Ex-police cars, ex-military vehicles, vans or school buses are made by the highest quality engineers to ensure complete safety in such important job roles, and they will have been regularly maintained.
The prices at these gov auctions can be surprisingly low. You'll pay a little more depending on the popularity of the item as it is an auctioning site but usually, the out of use items go for much lower costs than if you bought them new, just because they're no longer standard issue. But this doesn't mean that they're not still useful and in perfectly good condition.
Government auction websites were set up as a sustainable solution to prevent perfectly good government vehicles and equipment from going to waste and being destroyed. It's a good move for the environment, as it reclaims some funds for the government and saves on production costs and also helps recycle resources. A win, win!
How Do Gov Auctions Work?
Basically, if you figured out how to shop on eBay, you'll be absolutely fine. These online government auctions work in much the same way.
Both government auctions have user-friendly websites. You can browse via categories if you are just browsing for interesting items for sale. Both websites also feature a search facility if you're looking for something a bit more specific.
Most items for sale have multiple images (so you can be confident in the condition of your purchase) and a description field containing details about age, condition and specification etc.
Once you've settled on a purchase, just make a bid and monitor the bidding activity to make sure that you are not outbid. So what are you waiting for, get browsing and see if you can pick up a second-hand, quality bargain!
NOTE: You will have to register/open an account on each of the gov auction websites before you can bid and shop. Again, just like eBay!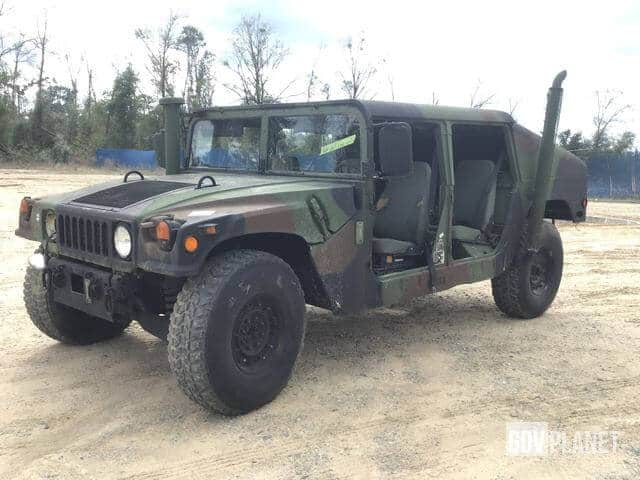 Government Auction #1 – GovPlanet – Military eBay!
The first website is – GovPlanet.  GovPlanet is an official online government auction partner (they basically sell on behalf of the government) selling ex-government and military equipment and vehicles. Besides ex-military jeeps and humvees etc, they also sell a whole range of technical gear (audio/visual/computers etc) generators, field gear, clothing and other military equipment. There are too many items to list, so you are best to just take a look and see what's available.
If a government dept/body or state has bought it but doesn't need it anymore, it is sold off via official gov auctions like GovPlanet and Gov Deals (below). There are storage lockers and compounds across the US filled with vehicles and items that are in perfectly good condition but are no longer used due to policy and procedure changes.
As GovPlanet is an auction website, the range of items for sale varies from day to day, week to week. For example, sometimes there will be a lot of military jeeps for sale, other times, not so much. Just like eBay, you really need to check regularly if you are on the lookout for something specific.
Scroll down the page to see some photos of a few things I found for sale on GovPlanet at the time of writing.
Government Auction #2 – Gov Deals
The second online gov auction is – Gov Deals. Ever wondered where all the items seized from criminal investigations go?  Well, everything that has value and is reusable, recyclable or sellable is auctioned off to the public on little known government auction websites like 'Gov Deals'.
Gov Deals, like GovPlant, is also an official online government auction partner (they sell on behalf of the gov)
Also, like GovPlanet, you can purchase much of the same ex-police/military equipment and government surplus from other government departments etc from Gov Deals, but the big differences (at the time of writing) is that you can also purchase seized police goods from Gov Deals!
Pretty much anything seized and left-over from criminal investigations can be auctioned off. You can even find high-value jewellery, watches, designer clothing, sporting goods, SUVs and boats at bargain prices.
Buying seized goods from criminal investigations can make many buyers feel uncertain of the seller's sources. But 'Gov Deals' is a fully licensed gov auction that provides a transparent and efficient service that you can trust.
Summary
Both of the gov auction websites featured in this post sell a lot of the same items. The range of goods that you can purchase is similar on both websites. That said, at the time of writing, only Gov Deals auctions off police seized goods, leftover from criminal investigations.
My suggestion is to bookmark both of these gov auction websites, as each one will have some items that the other one doesn't have available. Also if they do have similar items available, the price may be better on one or the other. Using both gov auction websites gives you a larger marketplace and range of items to browse.
Just remember that you need to register with each website before you are able to bid. Don't miss out on a last-minute deal because you forgot to register!
Below Are Some Vehicles/Equipment Sold on GovPlanet