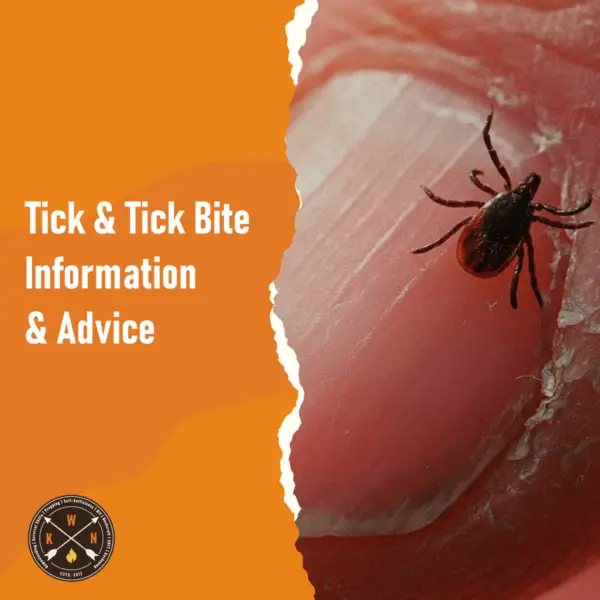 Before we discuss natural tick repellent recipes and tick bite prevention, let's take a moment to learn a little more about ticks and their dangers…
Ticks. They're rightly considered to be one of the most unpleasant pests of the insect world. However, for those who love nature, or those who are even outside for any longer than a little while, the likelihood of getting a tick bite can be pretty high.  Also, whilst the internet is full of blogs, guides and articles, it seems that many seem to conflict with one another as to how to avoid tick bites.
So let's take a look everything you need to know about ticks, from the symptoms of a tick bite, right through to the natural tick repellents that actually work.
Ticks – A little about our not-so-friendly critters
As far as insects go, it's safe to say that ticks are very unpleasant. They're ugly, difficult to spot, painful and their feeding habits are pretty disgusting.  What's more, as they latch on and don't let go until they're filled with blood, you can be stuck with a tick for anything from a matter of days through to a number of weeks. And once full, they can reach the size of a marble, turning a green-blue colour, before falling off.
 And what happens if you do pull them off?
Well, without wanting to put anyone off their dinner, if you pull off a tick without being careful, you'll likely end up with just the body, with the head remaining firmly underneath your skin. This can then lead to both a painful and potentially dangerous abscess that has the potential to turn sceptic.
How To Safely Remove a Tick
The video below shows how to remove a tick using one of those little tick-tools you can buy. If you don't have one, I recommend buying a couple. One for your home first aid kit and another to take out and about with you. These tick removal tools are far safer to use than tweezers. Tweezers can often detach the body of the tick, leaving the head embedded in the skin. This can lead to infection and complications.
The serious side of tick bites
Depending on location, ticks can carry and infect people with the following diseases. It is important to know if you live in an area where any of these diseases are present.
Lyme disease
Ehrlichiosis
Anaplasmosi
Tularemia
Babesiosis
Symptoms of a tick bite
Not sure whether you've been bitten by a tick? Well, the following symptoms can appear within minutes, but up to a week or more after the bite. Be sure to check yourself thoroughly and often. Most people do not get all of the symptoms below. If you are in doubt, please contact your doctor's practise for advice.
A red, inflamed sport or a circular rash around the bite, that's also known as the 'halo'
Stiff neck and shoulders
Headaches, nausea or a 'foggy' head
Sudden weakness
Aching muscles, joint pain and overall wellness
Fever, a fluctuating temperature or chills
Swollen, painful lymph nodes
The truth behind the blood type myth
There's been many a myth circulated in the past concerning whether ticks are attracted, or repelled, by certain blood types. But we can clear this up once and for all by assuring you that it is absolute nonsense. Ticks are creatures of opportunity and, if they see a nice bit of flesh that's within reaching distance, they'll latch on. It's as simple as that.
Tick Bite Medical Advice
It is beyond the scope of this post to provide in-depth specific medical advice on how and when to treat tick bites etc. I am not a doctor! With this in mind, below are some trusted sources about ticks, tick bites, symptoms and when to get medical help etc.
MedicineNet — Tick Types, Pictures, Removal, Bite Treatment & Prevention
WebMD — Tick Bites: Diseases, Symptoms, Fever, Allergic Reactions …
Harvard Health —Tick Bites A-Z
If there is any doubt or concern about a tick bite, the best thing to do is contact your own doctor for diagnosis and treatment advice.
To try and avoid getting bitten by ticks in the first place, check out these tick repellent home remedies.
Homemade Natural Tick Repellent Recipes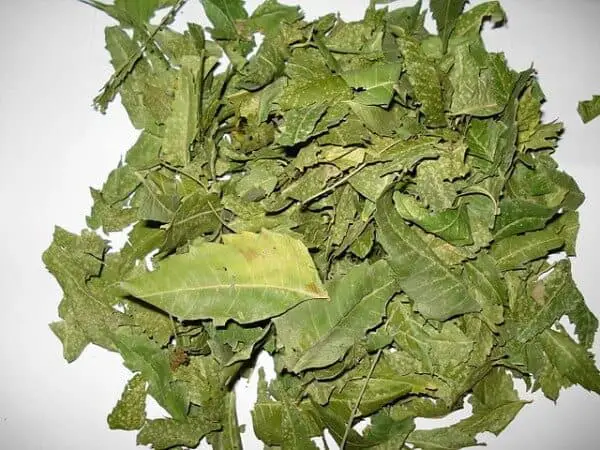 Neem leaves have great natural tick repellent properties
Natural Tick Repellent For Your Clothes
Ingredients that you'll need
5 Cloves of Garlic (around one bulb)
2 Tablespoons of crushed Neem Leaves
1 and half Lemons (skin and all)
2 Cups of Water
Equipment that you'll need
Stove
Sauce Pan
Strainer
Funnel
Spray Bottle
Measuring Cup
Measuring Spoons
Knife
Cutting Board
Natural tick repellent for your clothes: Step by Step
Step One – Heat up your water.
Step Two – Whilst the water is heating up dice up your lemon and garlic.
You needn't be too careful with getting your chopping precise, or too finely cut, just cut them roughly.
Step Three – Measure out two tablespoons of dried neem leaves.
Step Four – Once your water is boiling you can add in your ingredients.
Step Five – Cover you saucepan over and leave it to simmer on a low heat for between fifteen to twenty minutes.
Step Six – Remove the mixture and set aside, leaving it to cool down.
Step Seven – Place your funnel into the spray bottle that you have a carefully positioned over the top. You should then take care to slowly pour through your mixture through the strainer. The strainer will then catch all of the solids, with the liquid filling up the spray bottle below.
Step Eight – Screw the spray bottle top back on and that's it… you're all done and ready to go.
Step Nine – If you do end up with any leftover repellent then it can be stored; to keep it at its most effective, however, you'll need to get it refrigerated.
Tips for applying the natural tick repellent
Perhaps the most efficient way to use any repellent is to apply it to your skin, however, given the garlic ingredient within this recipe it may be wise to avoid this if you don't want to repel humans as well as ticks!  Beyond misting your skin directly you can also use this mist to apply to clothes (just do so at a reasonable distance); it's also suitable for pets too.
Natural Tick Repellent For Your Skin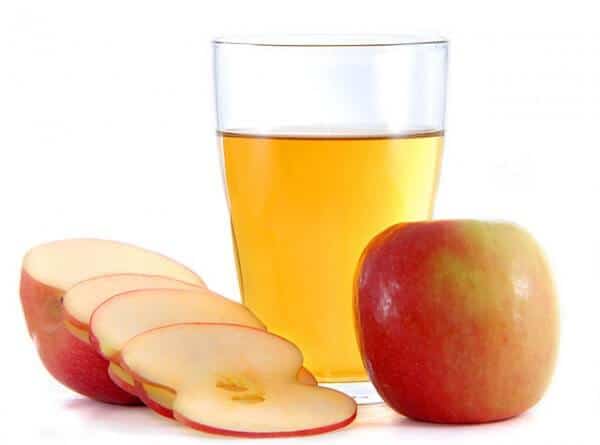 ACV has natural tick repellent properties
If you want to go all out and mix up some natural tick repellent for your skin as well as your clothes then the following recipe is perfect.
Ingredients that you'll need
2 oz of apple cider vinegar, witch hazel or vodka (each is relatively as effective as the next, so feel free to choose freely between these)
2 oz Water
20-40 Drops of geranium bourbon oil
One squirt of Castile soap to help distribute the oil better (this works out to be around a quarter of a teaspoon, however, this is also an optional ingredient)
Equipment that you'll need
A glass or PET plastic spray bottle
A saucepan
Natural tick repellent for your skin: Step by step
Step One – Add your geranium oil to the apple cider vinegar, witch hazel or vodka.
Step Two – Mix the castile soap into the mixture if you've chosen to include castile soap.
Step Three – Wait for the mixture to sit for a few minutes before you go on to mix further.
Step Four – Add in the water to the mixture
Step Five – Your mixture is now all done, so fill up your spray bottle.
Ideally, your spray bottle should be made from either glass or a PET plastic, as oils can otherwise leach the chemicals from certain plastics, which essentially contaminates the repellent.
Tips for applying this tick repellent
This simple recipe is easy to use, and all you need to remember is to shake the mixture well before each use. Simply spray it on exposed skin. This repellent is also suitable for your clothes.
Geranium bourbon essential oil acts as a natural tick repellent
Homemade Tick Repellent Lotion For Your Skin
As another form of the recipe above you can choose to make this natural repellent in lotion form. This arguably may be a more effective natural tick repellent as the lotion will be naturally absorbed into the skin.
Ingredients that you'll need
2 oz of your choice of natural lotion (you can either make your own or use any shop brought lotion)
Between 20 and 40 drops of geranium bourbon essential oil
 Equipment that you'll need
A glass or PET plastic spray bottle
A container in which to mix your ingredients
Homemade tick repellent for your skin (lotion): Step by step
Step One – Mix your oil and essentials oils into a container
Step Two – Add the mixture to your spray bottle
Tips for storing your repellent
This lotion-based tick repellent should be stored in a cool, dark place. If stored as such this is a repellent that should easily last for between two to three months.
Tick Bite Prevention Tips And Advice
So you are now armed with some natural tick repellent sprays and lotions, let's natural tick repelling education with a few well-placed tips.
Wear clothes that are light in colour
This will give you a much better chance of spotting a tick before it has time to sink its teeth into your skin.
Wear long pants along with protective footwear such as solid sneakers or hiking boots.
You can also increase your protection by tucking your shirt or top into your pants and, in particularly tick abundant areas, by wrapping some duct tape around your ankles and over your socks. This may give you a rather odd style, but it'll certainly ensure that you avoid being bitten!
Remain on well-trodden trails
If possible, you should try to stay on well-trodden tracks where overhanging vegetation and planting is minimalized. Overgrown meadows are also to be avoided if at all possible, and what's more, this tip not only helps you avoid ticks but additionally allows you to leave a lesser impact upon the outdoor spaces that you love.
Remember to do a daily tick check
This tip is particularly important if you're staying out for a number of days where the chances of a tick reaching you or your clothing are heightened. You should also get a friend to help you out and check the places where you can't, such as your back.
Once you home remember to check the kids and the pets
Before you set even so much as one foot over your threshold, you should check over your children and pets, and if just two or three make it in you could find yourself with a fresh littler of ticks to contend with!
When coming home after a trip to potentially tick-infested zones, you should bathe or shower as soon as is possible
Ideally, this should be within two hours, as ticks can tend to hide away from even the most extensive of overall body checks.
Be sure to examine not only each other and your clothes
But also your equipment, including coats, tents and day packs.
Always tumble dry the clothes that have gone on the trip with you.
If ticks have happened to latch on or hideaway within these then they will be killed off when the dryer is set to a high heat setting (it's worth noting that more recent research seems to suggest that even shorter drying times may be effective, particularly when the clothing inside isn't wet, to begin with).
If you choose to use shop brought, chemically-based repellents then you should opt for those that continue between 20% and 30% DEET (N, N-diethyl-m-toluidine), as this is most effective.
Bear in mind however that when choosing such repellents it's particularly important that you avoid the hands, eyes and mouths (especially when applying to a child's skin).
Always be prepared for being bitten, including within your packing finely pointed tweezers and bite lotion.