A member of your family is wounded.  You don't have an antiseptic solution to clean and disinfect the wound, what can you do? Well, you could make an antiseptic called Dakin's solution from common household ingredients you already have in your home!
This homemade antiseptic is known as Dakin's solution (also known as Dakin's fluid & Carrel–Dakin fluid) and it was developed by English chemist, Henry Drysdale Dakin and French surgeon, Alexis Carrel, it was first used in the first World War to treat soldier wounds and fight infection. The Dakin's solution recipe is made up with Clorox or similar chlorine bleach, baking soda and water, that's it…
Dakin's Solution Recipe
You will need:
Clorox or similar household bleach (Sodium hypochlorite solution 5.25%). Don't use thick or scented bleach
Sodium bicarbonate (baking soda)
Tap water
Cleaned/sterilized pan with lid, measuring cup and spoon,  jar with lid.
How To Make Dakin's Solution
Wash your hands
Measure out 32 ounces (4 cups) of tap water. Pour into the clean pan.
Boil water for 15 minutes with the lid on the pan. Remove from heat.
Using the sterile measuring spoon, add ½ teaspoonful of baking soda to the boiled water.
You can make the solution in one of four strengths. Measure bleach according to the chart and add to the water also:
For full strength – add 3 oz. bleach or 95 ml.
For 1/2 strength – add 3 tbls. + 1/2 tsp. or 48 ml
For 1/4 strength – add 1 tbls. +2  tsp. or 24 ml.
For 1/8 strength – add 2 1/2 tsp. or 12-14 ml.
Pour  the solution into the sterile jar and put the lid on.
Make sure you clearly label the jar as Dakin's solution, also including the strength of solution and date of expiry
Cover the jar with aluminium foil or store it somewhere dark, to protect it from light.
After opening the jar, throw away the remaining solution after 48 hours. An unopened jar can be stored for around a month if it is not opened, providing it is stored in the dark.
Dakin's Solution Recipe Infographic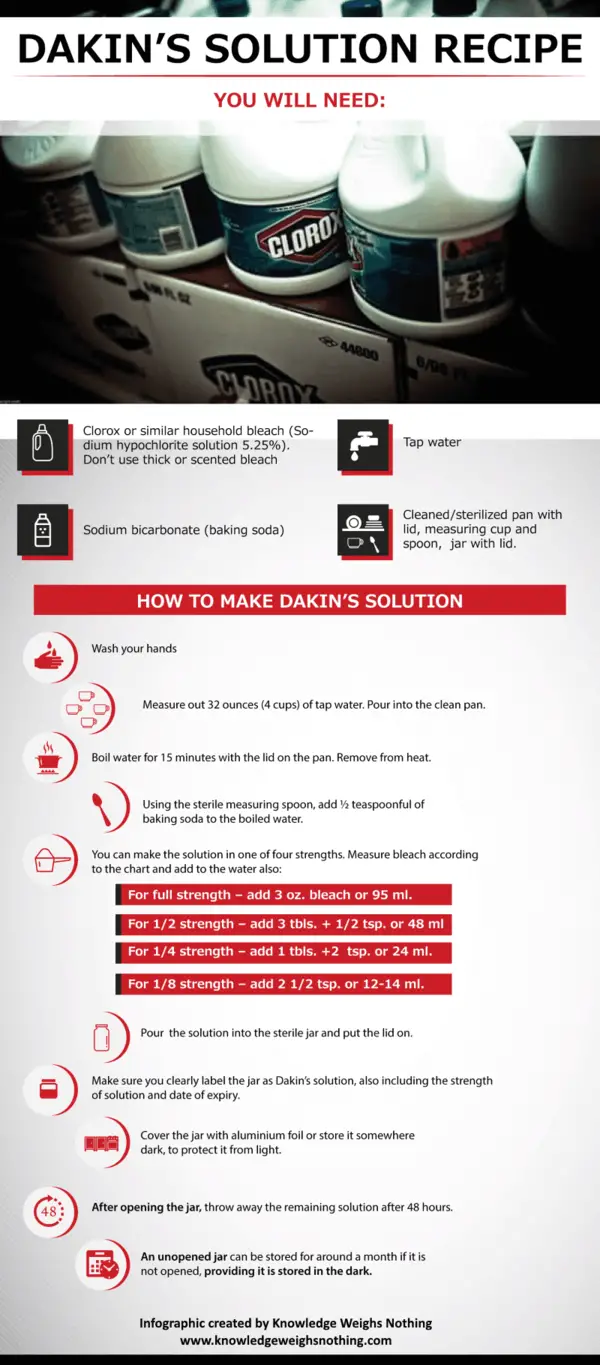 How To Make Dakin's Solution Video Tutorial
There are quite a few steps to this recipe, so check out the video below for a full demonstration of how to make Dakin's solution.