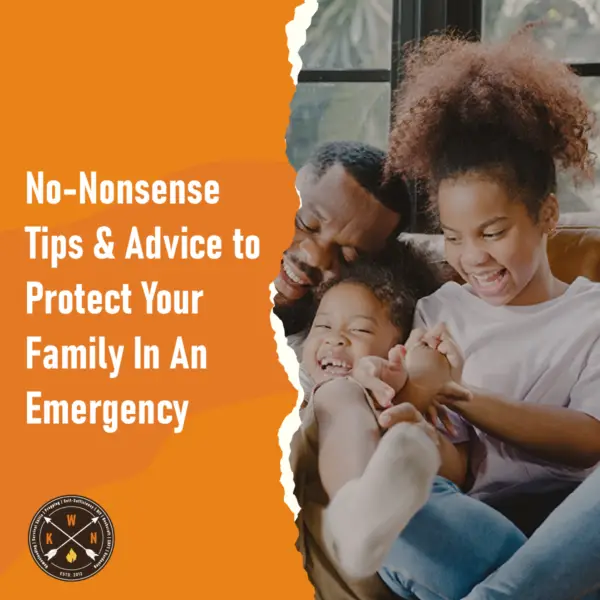 As our societies grow and we rely more and more on third party services to keep us safe and sound, the danger of suddenly becoming helpless and endangered increases. While there are literally thousands of ways to prepare for a disaster, you should primarily focus on the fundamental tips designed to protect you and your family.
The following tips and techniques were designed by emergency professionals are recommended for all persons in the event of a disaster. Don't wait until the dreaded winter storm forecast or unexpected natural disaster strikes. Spend time today preparing you and your family for the worst, so you may have the best odds in your favour.
Understand the Most Likely Disasters
One of the fundamental levels of preparing for a disaster is knowing what kind of events you'll likely face. Live in the mountains? Then you probably won't have to worry about a tsunami; however, you should concern yourself with landslides, severe weather and health pandemics. The worst mindset you can have is thinking you live in a disaster-free zone. There is no such thing in this world. Review the most likely disaster's for your area and create disaster-specific plans based upon this information.
Establish a Connection Method
What will you do when the cell networks go down? What happens when local telecommunication systems are non-operational? These are only a sample of questions you must ask yourself. It's imperative to consider how you'll connect with your loved ones when a disaster strikes, and traditional forms of communication aren't available. Disaster relief organizations suggest confirming an out-of-area emergency contact, as local communications may be down while long-distance communications may still be available. Consider investing in satellite phones and battery-operated two-way radios to communicate during the peak of a disaster.
Receive Alerts During a Disaster
While your television and Internet connection may not be available during a major disaster, officials communicate with the general public through a variety of methods. The first step is to sign up for emergency alerts on your cell phone or via an emergency radio – sold at many electronics stores. Communicate with your local officials to uncover their communications plan should a disaster occur. Upon learning this information, adjust your emergency plan to incorporate these methods so you and your family can remain in-the-loop during an emergency.
Prepare Disaster Responses from Multiple Locations
In an ideal world, when a disaster strikes you and all your loved ones are packed safely in your home. However, this may not be the case. When an unexpected disaster occurs and you or your family members are not at home, it's imperative to have a well-developed response plan for these situations. Plan to react from a variety of locations, such as your place of employment or your car. Plan evacuation routes, communication plans, and meet-up locations throughout the region with your family. Discuss emergency plans with your children's school or daycare facility to determine how they'll handle communicating with you during a disaster.
The notion of dealing with a major emergency is not one that many wish to dwell on. While there's something to be said about positive thinking, when this form of thinking leads to a lack of action, it becomes a serious problem. Even if you believe you'll never be involved in a serious emergency situation – whether a natural disaster or something more serious – it's essential to prepare for the worst while hoping for the best.
You've likely scanned across articles on blogs, magazines or newspapers discussing the value of preparing your home and family. However, many of these tips are expensive and require a significant amount of time and dedication to accomplish. What would you say if the most effective tips are also the cheapest?
Continue reading to uncover the top 5 emergency preparedness tips designed to keep you and your family safe without having to spend an arm-and-a-leg on advanced supplies and costly provisions.
Plan an Escape Route Out of Your Home
Imagine there was an emergency within your home, such as a fire, and you need to escape quickly and safely. What are the best ways to evacuate your home in the fastest way possible? Take a moment to delve into possible escape routes, then write it down. Make sure all inhabitants within your home fully understands where to go and how to escape the house should it be necessary.
Create a Centralized Meeting Place
So you've managed to escape your home – or some other location – during an emergency, now what? In the ideal world, you and your family are together when an emergency happens; however, this isn't always the case. Designate two different meeting areas. The first should be close to your home, such as at a neighbours house or at the neighbourhood park. The second should be a centralized place within your town or city. Write these locations down and make sure your family and friends understand where to meet should an emergency take place.
Create an Emergency Contact Card
Emergency contact cards are essential should a major disaster happen and you or your family members need to reach specific individuals or visit a specific meeting place, as described above. This card should contain the phone numbers of out-of-state relatives or emergency contacts as well as the locations of your two designated meeting areas. Copy this card and ensure each family member and friend has one for easy reference during a disaster.
Regularly Update Your SHTF Emergency Plan
One of the biggest mistakes many people make when it comes to creating an emergency plan is making it once and never returning to it. Much like life, the details in your emergency plan can, and will, need to change. Whether you move or change emergency contact information, make sure to re-visit your emergency plan every six months and make updates as necessary. What's worse than not having an emergency plan? Having an outdated emergency plan.
Practice Your SHTF Emergency Plan
There are many times when an emergency plan is thorough and effective, but during an actual emergency you or your family members become disoriented and are unsure how to follow the established plan. To prevent confusion during these stressful and overwhelming times, it's imperative to practice your emergency plan. Go through each step of your plan as if a real emergency was happening. Drive your planned evacuate route and spend time mapping out alternative escape routes. Practice exiting your home based upon the various escape plans and make sure to keep your emergency kits well-stocked.