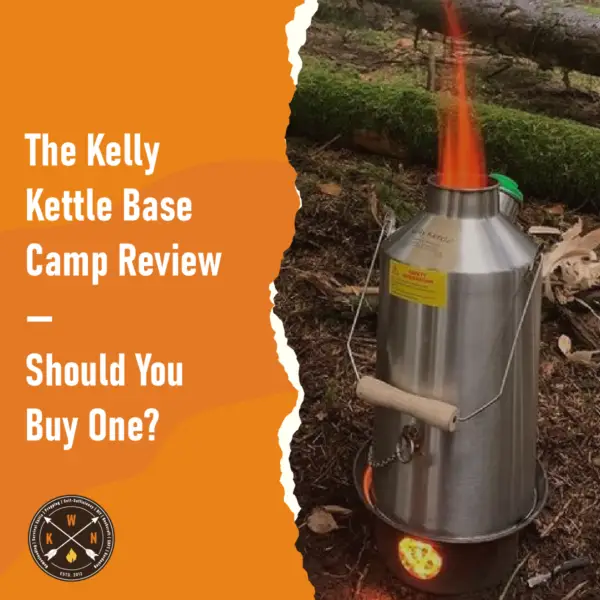 This review is on the Kelly Kettle Base Camp model in stainless steel. Kelly Kettles come in three different sizes, with some made from aluminium and some made from stainless steel. The Base Camp model is the largest in the range, but other than their size, all of the other Kelly Kettles perform in the same manner.
What Is a Kelly Kettle?
The Kelly Kettle is the original outdoor kettle. The first Kelly Kettle was developed in the 1890s by the great grand-father of the current company directors. These days the Kelly Kettle is often imitated, but never bettered. You might find a cheaper alternative, but the build quality of the Kelly Kettle is so good, it will likely last you a lifetime.  You'll probably end up handing it down to your kids..
So what does the Kelly Kettle do that makes it so unique? Well firstly, check out the image below which shows how the kettle works. It is simple, yet genius!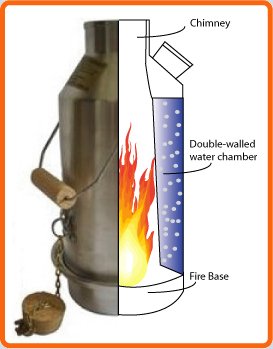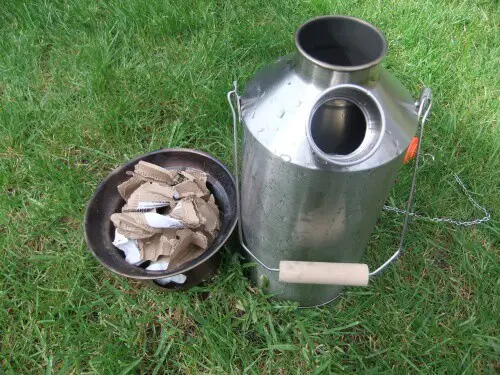 As you can see, I simply used some cardboard to light the fire. I put the kettle on the base, dropped several pine cones down the chimney and lit the fire via the small hole (just about visible in the photo below) in the fire base.  A few more pine cones and seven minutes later I had 1.5 litres of boiling water!
You can burn pretty much anything you can fit in the fire base and chimeny; twigs; pine cones; tree bark; dry grass; paper and cardboard. The thing that makes the Kelly Kettle truly unique is the speed with which it boils water. I managed to boil 1.5 litres of cold water in seven minutes and the timer started when I first lit the fire. When trying to boil water with the kettle (when a fire was already established and burning well) I repeatedly managed to boil 1.5 litres of cold water in around five minutes. Now that might not sound amazing when compared to your electric kettle at home, but anyone who has boiled water on outdoor stoves or over fires, will know that that is astonishingly fast…
 Kelly Kettle boiling water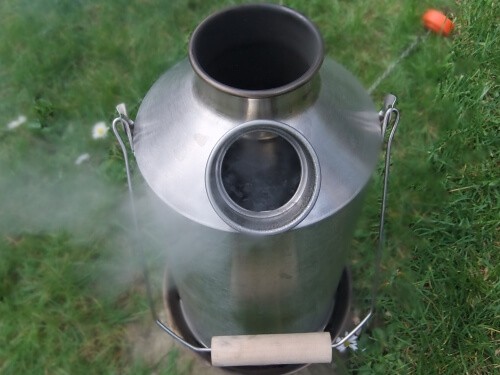 Kelly Kettle with pot support and pan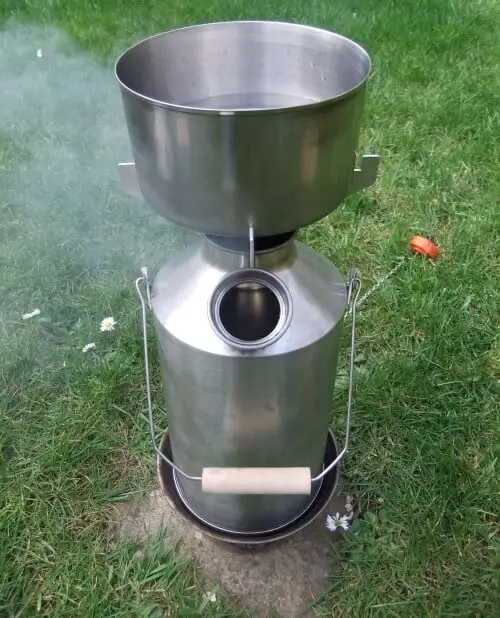 Aside from boiling water, there are also some accessories available which allow you to cook on the Kelly Kettle.  There is the pot support (above) and the the two piece fire base grill (below). Now these are great additions, but they don't come as standard, but I would recommend purchasing both.  However there are limitations.
Firstly, if you will be using the Kelly Kettle for cooking on, it is recommended that you purchase the stainless steel version as it is more durable and heat resistant than the aluminium version. The second limitation is that it is stated that you should only really use the Kelly Kettle for cooking quick meals such as noodles, oatmeal, eggs, sausages and bacon etc.  This is because the kettle needs to have water in it when in use.  If you use it for cooking on without having water in it, you will damage it.
So basically you have five to ten minutes of cooking time using the pot support on the top of the kettle, but if your food isn't cooked in this time, you can remove the kettle from the fire base and add the grill attachment and finish off your food on there. I discussed cooking with Patrick, one of the directors at Kelly Kettle, and he explained that cooking on the kettles is a relatively new thing, with historically the main purpose of the kettles being to boil water in super quick time.
He did give me two great tips for cooking on the Kelly Kettle though:
When cooking noodles etc on the top of the kettle, first boil some water which can be poured over the noodles to speed up cooking time. You can then refill the kettle and cook them before it boils again.
If you want to continue cooking on the top of the Kelly Kettle after the water has boiled, it is ok (with caution!) to continue cooking for a short period, with the water continuing to boil.
 Fire base with to piece grill attachment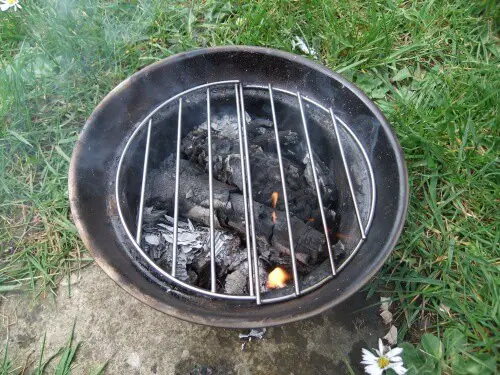 Cooking/boiling water on the fire base grill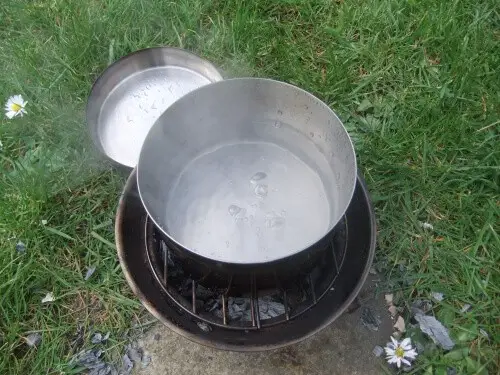 Kelly Kettle Basecamp Conclusion
The Kelly Kettle has been around for over a 100 years and it is probably more popular now than it has ever been.  There is a reason for this – it is a very well made, high quality bit of kit that boils water outdoors faster than any other reasonable method. I would give it 10/10 for build quality and 10/10 for its main ability of boiling water. I would give it 7/10 for cooking on, but we need to remember that cooking is the Kelly Kettle's secondary use, and as long as you are aware of the limitations, it is perfectly fine.  The problem is the kettle is just so efficient at boiling water, it doesn't give you a great deal of time for cooking!
I think the Base Camp Kelly Kettle would be ideal for: fishing, car camping, preparedness, Scouts, picnics and construction sites. Personally I wouldn't use it for hiking or wilderness camping as it is too big and bulky.  That said, the Base Camp is the largest kettle in the range, there is also the Scout Kettle and Trekker Kettle. Another thing to note is that if you purchase the additional pot support and cook set (pan/lid, handle and two piece grill) , these all fit and are stored inside the kettle for storage, so they don't take up any additional space.
Overall, I completely recommend the Kelly Kettle.  If you've read my review, you understand its strengths and limitations, if you think it suits your needs and you are thinking of getting one, don't hesitate! It will likely last you a lifetime. Additionally, I have nothing but great things to say about the folks from Kelly Kettle.  They couldn't have been more helpful and friendly.
Kelly Kettle Basecamp Price
For this review, I received a Kelly Kettle Base Camp in stainless steel, which came as part of a kit that included the pot support, pan/lid, handle, grill and bag.  This kit currently retails at $108.99, although you can purchase the kettle alone for $89.99, the aluminium kettles are cheaper again. Kelly Kettles can also be purchased directly from Kelly Kettle (UK, Ireland & Europe) and Kelly Kettle USA.
If you enjoyed this review, you might want to check out my review of the Folding Firebox stove. It's another great little stove…