This is my review on the Grayman Knives Ground Pounder knife, but firstly a bit about Grayman Knives.
Grayman Knives are a small husband and wife company in the US. Sue does the website and orders etc and Mike designs and makes the knives.  All Grayman fixed blades are hand-ground by Mike and made in the USA. Initially, Grayman knives were only available to the military and law enforcement, but as Mike slowed down on other projects, it freed up more time for knife making and they made their knives available to everyone.
Update – if your budget doesn't stretch to a Grayman knives knife, check out our homemade knifemaking post that includes a video tutorial showing how to make a bespoke, full-tang homemade bushcraft/survival knife from an old file. The best part? You do not need a forge or any specialised tools to make this knife.
Grayman Knives Ground Pounder Specification
Back to the Ground Pounder! Firstly in case you were wondering, it is called the Ground Pounder in honour of the US Military's ground forces. I'll give you the knife's specifications here and then I'll give you my thoughts, opinion and conclusion below the photos.
The Ground Pounder is 1 3/4 inch wide with a 6-inch blade, 12 inches in length overall.
It is made from 1/4 inch thick 1095 steel with a black DuraCoat finish. It has a heavy-duty textured G10 handle (available in green or black).
The knife has a drop-point tip, it has a single bevel and ships with what Mike refers to as a 'toothy working edge' (more on these later).
The knife comes with a Cordura sheath with a Kydex insert.  The sheath is MOLLE/belt compatible
Grayman Knives Ground Pounder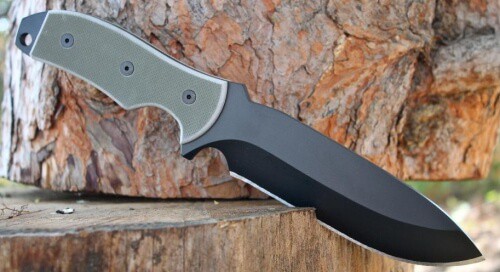 Ground Pounder in its Cordura sheath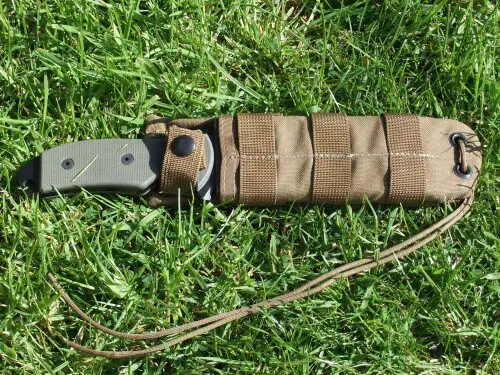 Ground Pounder and Cordura sheath
 Ground Pounder full-tang spine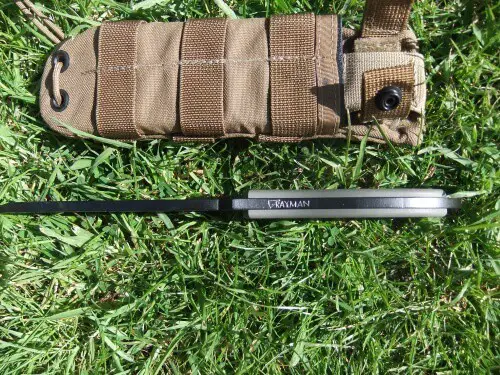 Ground Pounder measurements
Grayman Knives Ground Pounder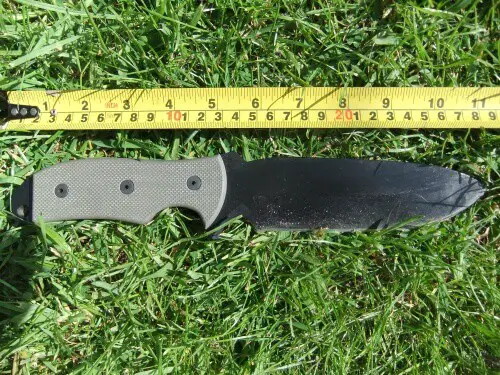 Grayman Knives Ground Pounder Review
The Grayman Knives Ground Pounder is a big, heavy-duty knife, that is designed and made to be used. It is a very serious knife if I had to choose one word to describe it is would be 'hefty'. It's a hefty knife that wants to cut, chop and pry all day long. If I had to survive in the wilderness and I could take just one tool with me, it would be a knife like this (actually it would be this knife!).
I have had this knife for several weeks and I have used it for many different things, I have used it to cut all manner of material; I have chopped branches, batoned wood for fires and made feather sticks.  I even did some digging with it! The knife's biggest strength is its only weakness. It is one big, heavy-duty knife that wants to be abused.  It is a jack of all trade, but also a master of most of them as well. The weakness is the size, it is just too big to be great for really nimble/delicate tasks.  That said the well-designed choil does make the knife a lot more nimble for its size.
Grayman Knives = Quality!
The Grayman Knives quality and dependability aside, the unique thing about the Ground Pounder is that its blade is 'single-bevel, this means the blade edge is ground on only one side (most knives are ground on both sides), similar to a chisel, actually, it is sometimes referred to as a 'chisel grind'. There is a more in-depth explanation of single bevel grind and why it is used on the Grayman Knives website. I really like this feature as it makes sharpening the knife much quicker and easier when you are away from home or base camp. I also found that the single bevel design actually aids branch chopping etc.  I think it is as much to do with the 1095 carbon steel used to make the knife, as it is the single bevel edge, but with a bit of work, this knife can be made scary sharp! Additionally, I found it remained sharp for quite some time.
The Grayman Knives Ground Pounder ships with what Mike refers to as a 'toothy working edge'.  It is basically a more aggressive, raspy edge with tiny rough ridges. Personally, this edge was not for me. I can totally see why it would be great for military heavy-duty use etc, but I didn't find it ideal for finer tasks such as making feather sticks. I actually ended up sharpening it out to a finer edge, which I felt was much sharper, but to be honest, this is all just personal taste.  You might love the 'toothy working edge', but if not, you can sharpen the knife, it's not an issue.
I wasn't sure if I was going to be a fan of the DuraCoat finish, but it has held up really well.  It protects the steel against rust and makes the knife easy to clean. It also stops the knife reflecting light if you are in a covert situation, although this works in reverse if you are in a survival situation, as you cannot use the knife blade for signalling for help etc.

The G10 handle is comfortable and has a great grip. One thing I would say is it's a big old handle and I don't think it would be that comfortable for folks with smaller hands. In front of the handle is a choil, which is an excellent feature as it enables you to have much better control over the blade for more precise/delicate tasks.
The Cordura sheath has a Kydex insert and it's MOLLE/belt compatible. It's not pretty, but it does what it is supposed to do – it holds and protects the knife (and you!) very well. The webbing makes it very easy to attach to a pack which is a great feature.
Grayman Knives Ground Pounder Conclusion
I get emails all the time asking for me to recommend knives for bug out bags and for wilderness survival. Typically people ask – what one knife would you recommend for my pack, that is dependable and has multiple uses, so it will save me carrying several tools?
I am by no means an expert on knives, but it seemed that all the knives I have had an experience of, have some kind of limitation. With this in mind, I set about finding a 'one knife for every situation that could cover all bases in a survival situation.  This was when I stumbled across Grayman Knives and I was immediately drawn to the Ground Pounder and that leads us to where we are today.
I already liked the look of the Ground Pounder which is why I got hold of one to review. I have high expectations for my gear and tools and I think the Ground Pounder is as close as you will get to one knife for every task in survival situations.  It excels at the hard tasks of cutting, chopping, digging and prying, but largely due to the well-implemented choil, it can tackle the finer tasks as well. It is not as good at the finer tasks, but you can get them done with a bit more time and care. You are never going to get a tool that can chop wood, hack down branches and dig holes, that is also great for carving, dressing game and preparing food. To be honest, I'll also carry a smaller folding knife for preparing food etc, and I would recommend doing this, BUT you don't absolutely need to.
If you don't want to carry a separate machete, hatchet, entrenching tool and knife, then the Grayman Knives Ground Pounder could be the tool for you.  It excels at the tough work and yet still just about manages to be nimble enough to get the finer tasks accomplished as well. If you only want to carry one tool, this is that tool!
The Ground Pounder comes with several different blade choices. The one featured here is the single bevel, single edge option and it currently costs $195. Yes, this is a sizeable amount of money, but each knife is hand-ground and made in the US by Mike, and if you purchase one, the money you spend is an investment rather than a cost, as you are investing in a knife that will have your back and won't let you down, no matter what situation you find yourself in, for the rest of your life… Another thing to bear in mind is – if you are considering purchasing this knife for a bug-out-bag or survival kit and you want to travel light, having this knife saves you the cost of having to purchase a separate machete, hatchet and possible an entrenching tool.
Finally, there is also the Grayman Knives fixed blade warranty: "Free sharpening anytime. You pay postage, and I'll sharpen her up and send her right back. If you break it (yeah right) send it back and I'll fix or replace it post-haste. If you sell it, give it away, or will it to a family member or fave charity, the warranty goes with it."  You can't ask for much more!
I highly recommend the Grayman Knives Ground Pounder knife! It is now the knife packed in my bag and it sits there ready for adventure…