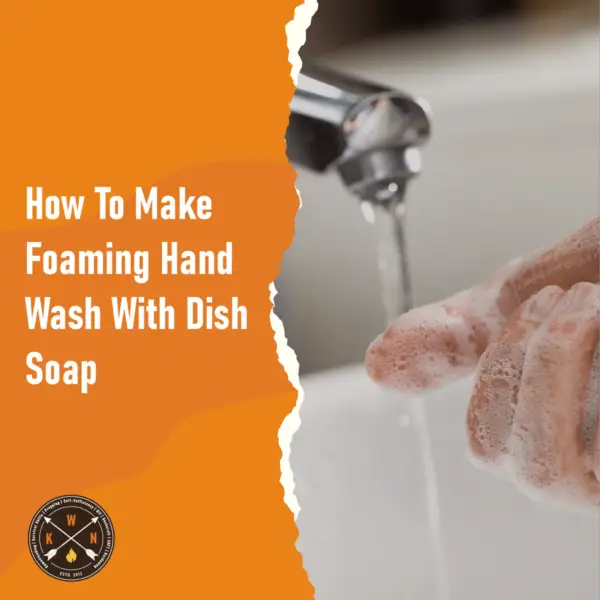 It's the end of March 2020 and most of us are stuck at home trying to slow down the spread of coronavirus. Regardless of the country we live in, we are all getting the same basic information and instructions – stay at home – social distancing – frequent hand washing – disinfect common points of contact in the home (door handles, taps, countertops etc).
The problem with the frequent hand washing is that due to panic buying, most stores have been sold out of soap and liquid hand soap for weeks now… You can still buy dish soap (washing up liquid) in most stores though. You could obviously use a squeeze of dish soap to wash your hands in a pinch, but neat dish soap is very strong. Using it more than a few times is likely to dry out and make your hands very sore.
The good news is — you can make a simple foaming hand wash from diluted dish soap! It is probably not the best thing to be washing your hands with longterm, but if you cannot get any soap or liquid hand wash, it's a good alternative in the short-term.
**If you need a hand sanitizer for when you are out of the home (work or grocery shopping etc), check out our simple DIY hand sanitizer post.**
How To Make Foaming Hand Wash From Dish Soap
You will need an empty foaming hand wash dispenser. Either rinse out an old one or you can purchase foaming pump dispensers from Amazon.
Some dish soap (washing up liquid)
Instructions
Pour some dish soap into the foaming hand wash dispenser. The amount will vary depending on the size of the dispenser. Usually, around 10% will be about right.
Top up with water so that's approx 90% water and 10% dish soap.
Screw the pump top on and shake to mix the water and dish soap.
Once mixed depress several times until the foam soap starts to come out.
Note: depending on the size of hand wash dispenser and the dish soap you use, you may need to slightly alter the dish soap to water ratio to get the best foam.
**If you are also struggling to find spray disinfectant in the shops — check out our post on how to make spray disinfectant from household bleach.**