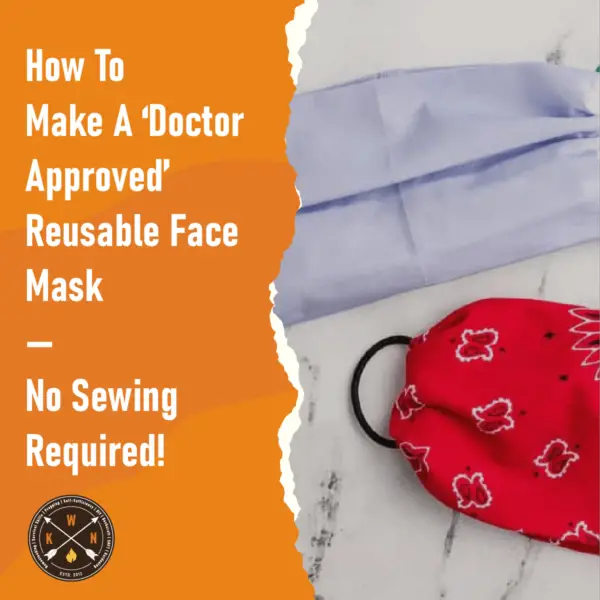 Firstly a disclaimer of sorts… Simple cloth face masks like the ones featured here are NOT worn to protect you from catching coronavirus. They are worn to help protect others from being infected by you when you are in close proximity.
This is important with coronavirus for two reasons. Firstly, coronavirus can infect others for several days before you begin to experience any symptoms. Secondly, many people who catch coronavirus are asymptomatic. This means they get the virus and are capable of infecting others, but they experience no symptoms themselves. These two points are precisely why coronavirus is so successful at spreading and infecting lots of people…
These cloth face masks work by covering your mouth and nose and catching and reducing the number of droplets you cough, sneeze and breathe out. This reduces the number of virus particles emitted. This has two benefits — fewer emitted virus particles means there's less chance of passing on the infection to those around you. Also, even if you do pass on the infection, their viral load (the amount of virus passed on) will likely be lower, which could mean the infected person gets a milder illness.
If lots of people wear simple face coverings (buffs and scarfs etc) or cloth masks when in towns and cities and crowded and confined places such as public transport, shops and places of work, this can dramatically reduce the spread of coronavirus in those places.
Note — The only way to completely protect yourself with a mask is if you wear a properly fitted medical, respirator style mask. Even then great care is required when putting on and taking it off to avoid infecting yourself with your hands or surfaces etc.
How To Make N0 Sew Reusable Face Masks
You can purchase simple, reusable face masks on Amazon and eBay etc, but to be honest, they are very simple to make out of an old t-shirt and then they don't cost a penny either. Watch the videos below to see how it's done.
The first video is by Dr Cellini. Dr Cellini is a senior diagnostic & interventional radiology doctor and he has a very popular YouTube channel. He has seen various styles of homemade face masks, but he recommends this particular DIY face mask. In this video, Dr Cellini makes his own face mask whilst following another tutorial from Jan Howell. I have also included Jan's original video tutorial down below, in case you would rather just follow that tutorial instead.
DOCTOR MAKES DIY FACE MASK | How to Make a NO SEW Face Mask
DOCTOR MAKES DIY FACE MASK | How to Make a NO SEW Face Mask

Cellini)