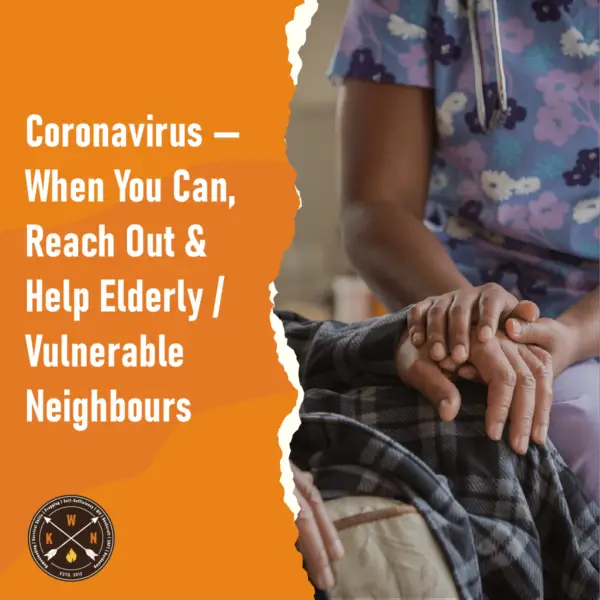 This coronavirus (Covid 19) pandemic will be difficult and worrisome for us all. It is a particularly scary time for the elderly, disabled, and those with living with existing medical conditions.
Similarly to the oxygen mask instructions on aeroplanes (put the mask on yourself first, before trying to put them on your children), in the first instance I think it is important to care for and secure you and yours. Once all reasonable preparations are taken care of, we should all then consider what we can do to help and support the elderly and vulnerable in our street and the local community.
Many old and disabled people experience loneliness and difficulties at the best of times. These are not the best of times. In many countries, people over the age of 70 are, or will soon be asked to self-isolate at home for several months. It seems sensible for people with pre-existing medical conditions to do likewise.
I know you have your own priorities and worries, but once you are sorted and in good shape, please consider reaching out to the elderly and vulnerable in your street and the local community.  It's not just the elderly or vulnerable living in isolated areas who will struggle, people living bunched together in towns and cities can feel just as isolated and alone.
If you know anyone who might appreciate some help or support during this global pandemic, let them know you are available to help.  Just letting someone know they can call on you if needed could make all the difference…
IMPORTANT — stay away if you are ill. When offering help/support, it is important not to spread the coronavirus to those we are trying to help.
There are many ways you can help without direct contact. For example, swap phone numbers (or email addresses) and talk on the phone rather than in person. Even if you seem well, it is sensible to drop off food/supplies etc by their front door, to keep your distance. They can get it after you have left.
It is vital that you always follow hand washing protocols etc so that you do not pass on the virus on food/supplies you take around.
At all times you want to balance providing support whilst limiting contact as much as possible.
Some Ways To Help The Elderly & Vulnerable
Phone and say hello. Tell them to call if they need anything. Phone every few days to keep in touch. Tell them to call even if they just want some company.
If you don't know them personally, talk to them at distance or leave a note (see down below) with your name and phone number. Tell them to phone if they need anything at all.
If they are internet savvy — swap email and messaging contacts. Keep in contact online.
Offer to help with errands and groceries. Offer to do their shopping and drop it round.
Offer to go to the pharmacy to pick up prescriptions etc.
Some people cannot afford to spend much on heating and food etc. Check they are staying warm and eating well. Local charities and organisations can help.
Offer to walk their dog if appropriate and safe.
Help clear snow and ice from around their home.
If they become unwell, recommend they seek appropriate medical advice. If required do this for them.
Reach out, connect, show compassion and respect dignity.
Viral Kindness Cards
A lovely woman from the UK, Becky Wass, created these excellent postcards below. You can 'right click' and save/download it to print out.
Simply print some out, fill them in and post them through elderly/vulnerable neighbours' letterboxes. *Be mindful to wash your hands etc before printing and filling in these cards.*