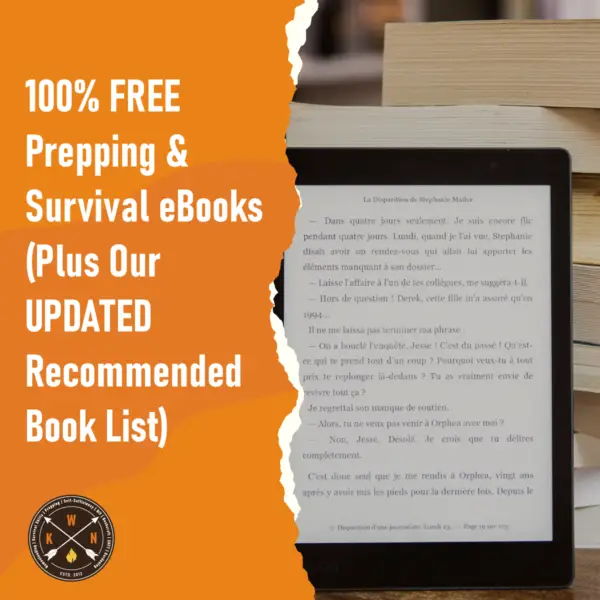 Books weigh something, but the knowledge they contain doesn't and once learned you can carry that knowledge with you wherever you go and whatever you face… Below is a list of some excellent free ebooks in PDF, that can be downloaded and printed off. Below these free books is an additional list of recommended published books available from Amazon.
FREE COOKBOOK: 500+ Camping Recipes (Incl 100 Dutch Oven Recipes)
That's right folks – over 500 camping recipes that also includes over 100 Dutch ovens. It's yours for FREE down below! Many thanks to 'Troop 26 Parkville Maryland'.
Many of these recipes can also be cooked at home in the kitchen or on the barbecue etc. Don't wait until the weather is nice and you go camping, to try some of these recipes. The free PDF cookbook of camping recipes would also be useful for survival situations and emergency preparedness as you'll likely end up cooking outdoors if the SHTF. Download and print out this free PDF cookbook below.
Get it here: FREE: 500+ Camping Recipes (Incl 100 Dutch Oven Recipes)
FREE Wound Care eBook Download
This free wound care survival book goes into a lot of detail about how to treat common and some not so common wounds.  Everything from minor wounds to life-threatening wounds. If you live an outdoor kind of life, or you're into prepping or wilderness survival, I highly recommend you download this free eBook. It covers suturing, simple surgery, gunshot wounds, burns and much more… Click the link below to download the wound care book
Get it here: FREE Wound Care eBook Download (link currently unavailable)
Free 76 Page Fully Illustrated Pioneering Book
Pioneering is the art of making useful items and structures with rope/natural cordage and wood/branches etc. Pioneering is very popular with the Scout movement as you came to make small simple camp gadgets like those in the image above, and you can make huge structures like bridges and towers, which promote excellent team building.
The free pioneering book below has 76 pages full of pioneering projects, both big and small, there is everything from coat hangers through to huge draw bridges. Click the link below to download a PDF copy of this book from 'Troop 26 Parkville Maryland' Scout group. Once you click the link below the PDF book should download.
Get it here: Free 76 Page Pioneering Book
Free: Emergency Food Storage Cookbook
One of the problems with emergency food storage is you are limited by what foods can be preserved for long term storage AND how the preserving method affects the taste/texture etc of the food itself. Another issue is people often only stockpile the basic staples – rice, pasta, oats etc. All of this can lead to very basic, bland meals, and that's just not good enough, as if we are surviving on our stored food, we want to survive in style!
Bland meals made from preserved stored food is now a thing of the past, thanks to Jodi and Julie over at 'Food Storage Made Easy', as with the help of their readers they have compiled an excellent cookbook listing recipes that can be made with 'shelf stable' (basically preserved foods) food that you likely stockpile in case of a rainy day, or the SHTF. Get hold of a copy of this vital survival book below, print it out and store it with your food supplies.
Get it here: Free: Emergency Food Storage Cookbook
Some Of Our Favourite Books On Amazon
Below is a list of recommended survival, emergency preparedness and homesteading books you can purchase from Amazon. They are listed in no particular order. All are highly recommended!
Emergency Preparedness Books
When All Hell Breaks Loose: Stuff You Need To Survive When Disaster Strikes
Prepper's Instruction Manual: 50 Steps to Prepare for any Disaster
How to Survive the End of the World as We Know It: Tactics, Techniques, and Technologies for Uncertain Times 
Handbook to Practical Disaster Preparedness for the Family, 2nd Edition
The Prepper's Pocket Guide: 101 Easy Things You Can Do to Ready Your Home for a Disaster 
Build the Perfect Bug Out Bag: Your 72-Hour Disaster Survival Kit 
Wilderness Survival Books
The Ultimate Survival Manual (Outdoor Life): 333 Skills that Will Get You Out Alive
The Forager's Harvest: A Guide to Identifying, Harvesting, and Preparing Edible Wild Plants 
SAS Survival Guide 2E (Collins Gem): For any climate, for any situation
Survivor Kid: A Practical Guide to Wilderness Survival
Medicine for the Outdoors: The Essential Guide to Emergency Medical Procedures and First Aid, 5 
Food / Homesteading / Self-Sufficiency Books
The Self-Sufficient Life and How to Live It 
Organic Gardening: The Natural No-dig Way
The Forager's Harvest: A Guide to Identifying, Harvesting, and Preparing Edible Wild Plants 
Recipes and Tips for Sustainable Living
The Backyard Homestead: Produce all the food you need on just a quarter acre!