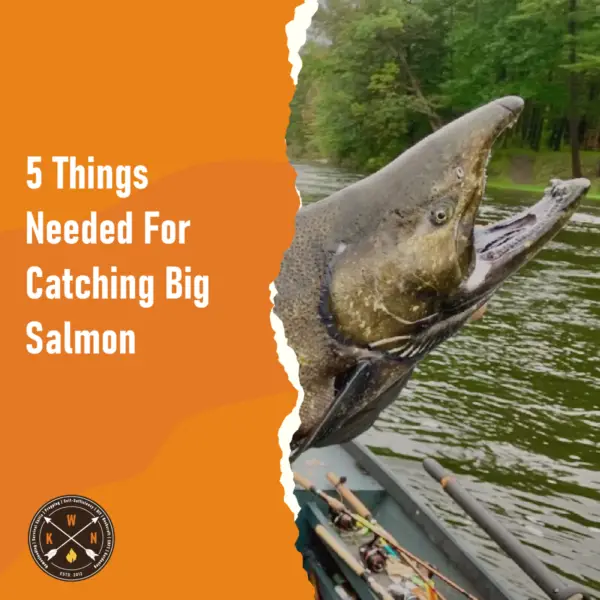 Salmon are one of the most famous sports fish that are widely distributed. The fish tastes outstanding, but their great fighting spirit might offer a robust challenge to you. There are many subspecies of salmon which would be a treat but catching king Salmon could make your day.
Hence, to help you in catching easily, we have brought up a list of five things needed for catching big Salmon.
Fishing Rod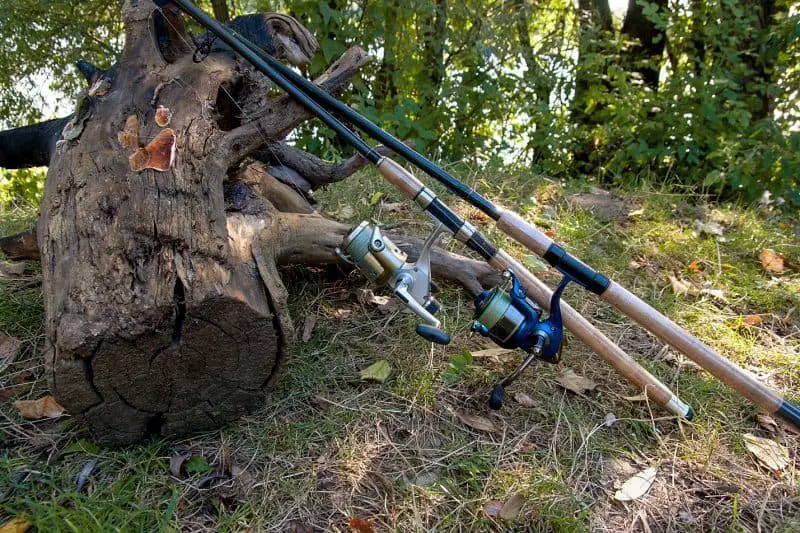 Selecting the ideal rod for salmon fishing would be advantageous. The perfect and the best salmon rod would lead you more towards success and fun in catching king salmon.
There are various kinds of salmon fishing rods such as spinning rods, baitcasting rods, trolling rods, and fly fishing rods.
Generally, for getting hold of a king size salmon, a fishing rod of about 8-10 foot range would be better.
Keeping this in mind, the salmon fly fishing rods could be the right choice for you as these rods would be about 9 to 10 foot in range.
Moreover, the butt portion would also be important to consider for these powerful fighters.
The tail section generally would range between 6 to 12 inches. Usually, the blanks of a salmon fishing rod are made up of graphite or fiberglass or a merger of both to provide flexibility and strength.
However, these rods are designed mainly with extreme strength along with the power and a tough hook to set right into the bony jaws to control these strong fighters for which they are popularly known.
Fishing Reel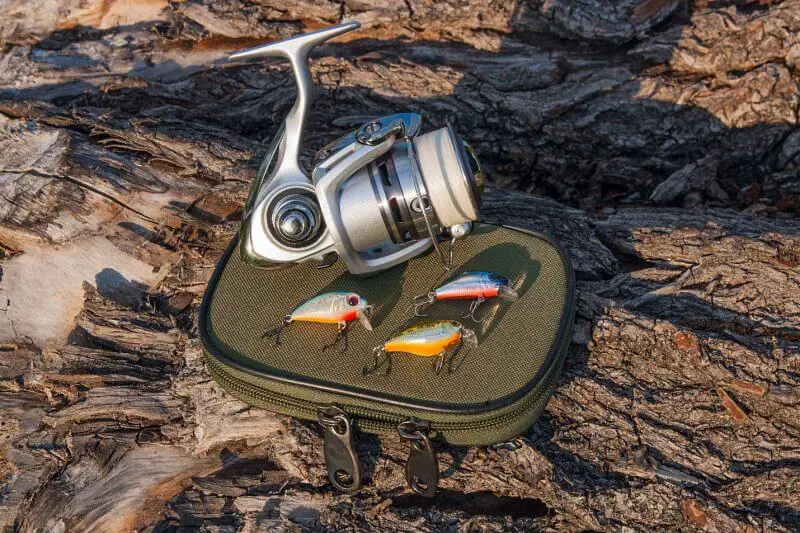 The reel would include the most vital equipment while targeting king salmon. Particularly, the drag system would have to operate correctly on the reel when the big fish is pulling firmly. The drag system would have to be durable so that it doesn't freeze up for great pressure and smooth so that it offers equal pressure even if the king salmon is pulling hard.
However, there are two important types of reels; one is the spinning reels while the other is conventional or baitcasting reels.
Spinning reels could work perfectly for beginners as it can be used easily but might not prove the best for catching King Salmon.
This is because these reels are not as hefty or strong as the baitcasting reels and also the drag system could not be good.
However, you could get some good brands of spinning reels that might work great. The conventional reel comes with a reliable drag system and is easy to crack under pressure. This is the reason that these reels could perform better in catching the king salmon.
In addition to it, the level wind reels could be an excellent choice for big salmon, which comes with the line strength of about 12 pounds.
Fishing Lines
The fishing line that you will employ for catching big salmon would determine whether your day will be successful or frustrating.
Although the monofilament lines are as always the most common choice for maximum anglers as they are cheap, it might not result in something effective in catching big salmon.
Specialty lines and super lines are constructed with several elements and amalgamation of items than the standard lines that make them ideal for catching big fishes.
Super lines, constructed through thermal fusion or braiding the strands of elements and designed with strength make it the most efficient line to land king Salmon. These lines lack stretch and have excellent knot strength. The diameter is just a fraction of the monofilament lines, and it permits deep, fast descent while trolling.
However, super lines might not make a good leader material always as these are not constructed of any smooth or clear material.  Specialty lines are even often used salmon fly fishing from both in freshwater and saltwater situations. These lines would always be attached to a spool at the rod's end and look nearly same in appearance and texture to super lines.
Monofilament Lines are also used in catching Speckled Trout, and if you are planning to catch speckled trout then monofilament line with fine diameter is pretty useful.
Fishing Lures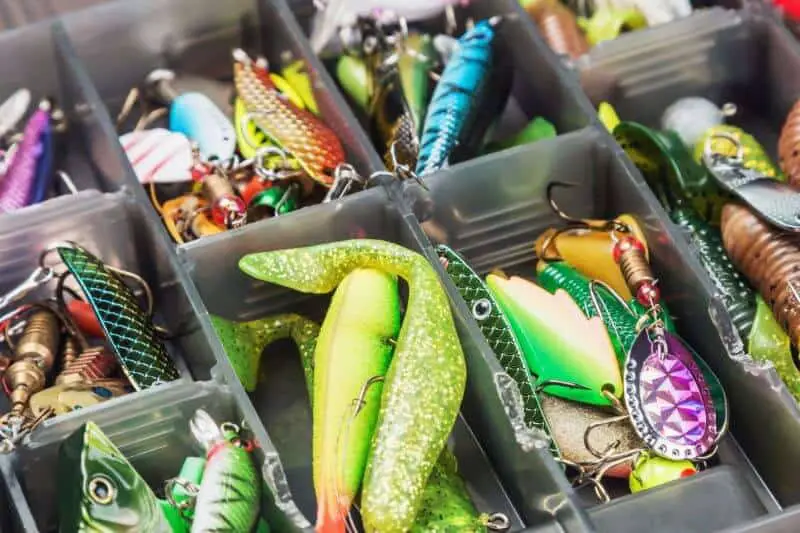 Spoons, spinners, and plugs could be considered to be the most effectual lures for salmon, especially for King salmon. Spoon lures comprise of concave, elongated oval fastened to a hook. Usually, the oblong spoon is made of a painted metal and designed to make it look like a small fish mimicking the fluttering, random movements.
Spoons would be useful especially for downrigger and troll fishing. The other potential lure of salmon fishing is the spinner, which is also popularly known as spinnerbait. There are many distinctive designs in this category, but the standard feature in all is the reflective blades of metal. These blades spin freely around while it is reeled in and create potential vibration in water that attracts the salmons.
The wobbling variety of Plug would also work perfectly for catching big salmon.  These are hard, reliable lures that feature many hooks typically and are designed with reflective paint to look like a fish. There are two separated parts in wobbling plugs that are joined by a hinge, and it allows fluttering back and forwards while reeled in.
Such a movement, as usual, creates vibration and attracts the attention of the salmon. A cut-plug lure is another type of plug that is used for salmon fishing exclusively in Great Lakes as well as Pacific Coast waters. Moreover, the color would be the primary consideration for any lures.
Live Baits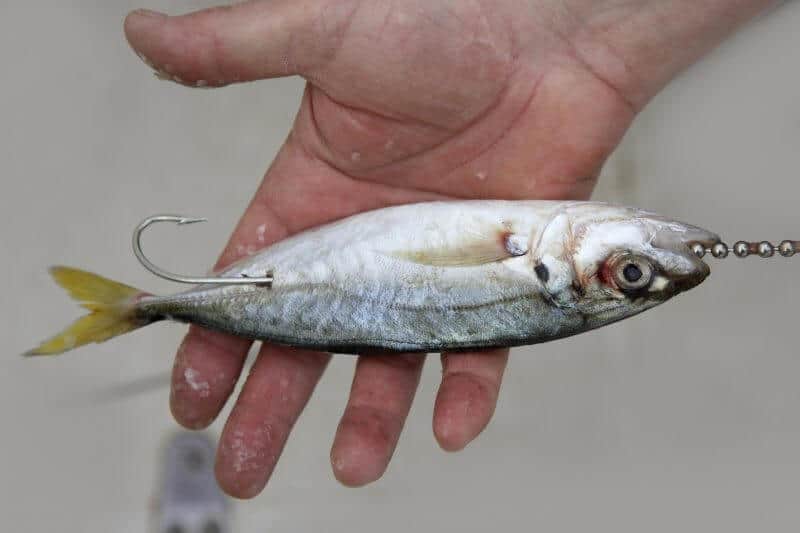 There is no doubt that artificial flies and lures would let you catch salmon in significant numbers. But, there are some live baits that could even provide you the extra edge. In the famous saltwater fishing technique, the lure is tipped, that is, adding extra pieces of herring or worm to the lure.
However, you would have to be cautious about this that tipping much larger amount could affect the lure action negatively. Anglers use fish eggs fastened to a float while drift fishing salmon in shallow freshwaters.
Conclusion
Well, we hope that our mentioned list of five things needed for catching big salmon would render you a good idea about the essential requirements. You could experience a great catch if you use the correct materials. However, if you have any suggestion regarding it, please let us know.
Biography
Hi there, I'm Ted Thomas from GrayWolfLife, an ardent adventure writer. I write for readers with a genuine interest in enjoying the great outdoors. By sharing my experiences camping, hunting and fishing, I hope to inspire others to fully explore the depths of their passion.