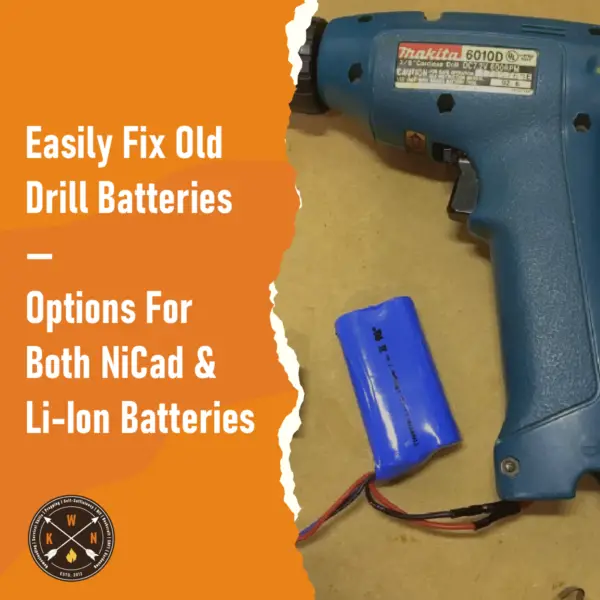 I have an old DEWALT cordless drill.  The battery no longer holds its charge. I contacted DEWALT ages back about a replacement battery but they quoted $85 PLUS P&P… I am sad to say that my trusty old drill has sat unused since. I purchased a new cheaper drill for half the price.
But all is not lost as thanks to the video below, I am now able to breathe life back into my trusty old DWALT drill! I can 'hot rod' and repair the battery for less than $20! I just wish I had found out about this sooner as I would have avoided buying a second drill.
If you have an old Ni-Cad battery drill, or any other battery power tool that's no longer charging or holding its charge, DON'T pay top dollar for a replacement battery or a new tool. Hot-rod the battery pack and replace the battery cells. It's pretty straightforward to do. Watch the video below for more information.
I have added a second video down below. This one shows how to upgrade your old NiCad battery drills etc, to lithium battery drills! This means you don't need to purchase a new drill, to take advantage of the newer, much-improved lithium battery technology. You can simply upgrade your old drill's battery by replacing the battery cells in it.
I have now found and added a third video. This video explains how to revive Li-Ion batteries. When this works, it gives the batteries a new lease of life.
Please exercise caution when reviving old batteries or replacing the battery cells etc. Follow the instructions in the videos below. Note any safety precautions and limitations. Play Safe!
How To Hotrod a Cordless Drill Battery (Replace The Battery Cells!)
Cordless drill battery pack DIY upgrade / rebuild - sealed, no screws
Upgrade Old NiCad Powertool Batteries To Lithium Batteries
New Lithium for Old Tools!
How To Revive Dead Li-Ion Power Tool Batteries
DIY: How to Revive a dead Li-ion power tool battery