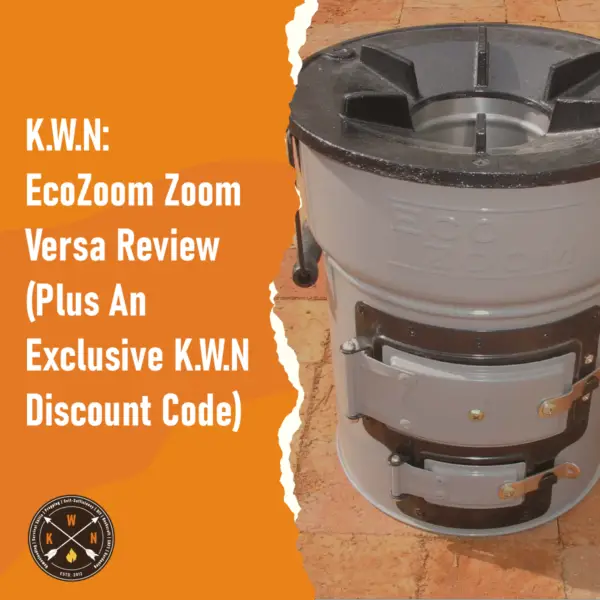 A month or so back I was contacted by EcoZoom to see if I would be interested in doing a post about the EcoZoom Zoom Versa stove. I have had my eye on these EcoZoom stoves for quite some while, so I gladly agreed. I have not been paid to do this, but EcoZoom has provided a stove at no cost for me to try out. This will in no way bias my opinions.
Firstly here is the product description from the EcoZoom website:
EcoZoom's Versa Stove can burn wood, charcoal, or dried biomass and is our most versatile cook stove. The Versa is a great option for those wanting cook fuel options while still providing the same EcoZoom durability. The Versa is our most popular emergency preparedness model in the United States and is also great for camping.
The Zoom Versa features an abrasion-resistant and durable ceramic combustion chamber with a 10 cm in diameter vertical section that forces the gases to mix with the flame, decreasing harmful emissions and adds a refractory metal liner to the inside of the combustion chamber that protects the ceramic insulation, increases the life of your stove, and improves combustion efficiency.
This stove features our new hinged combustion chamber doors enabling for an effortless conversion from wood to charcoal fuels. Both the main combustion chamber door and the damper door (bottom door) have reinforced metal frames and have hinges that serve to securely close the doors and regulate airflow. The Zoom Versa also has a durable, reformulated 6-pronged cast iron stovetop that improves heat transfer for all pots including round bottom pots and woks.
The first thing I noticed about the Zoom Versa when it was delivered is just how heavy it is… It weighs 12KG, so it is definitely not for camping or bugging-out on foot, but that's kind of obvious given the size of the stove anyway. The next thing I noticed (when I removed the stove from the packaging) is just how well made it is, it really does feel like a premium product. The outer shell is enamelled metal with a nice heavy-duty cast iron cooking surface. The two doors open and close well and the handles are very useful for moving it around, given its weight.
So how well does it actually work I hear you ask?  Simply put – if you want extreme heat with minimal fuel you've got it! See the photo above, that is effectively a handful of twigs. I should note that the stove had been fired up for around 10 minutes first and that is an important point to make as due to the thick insulated chamber walls it takes a while to warm up, and for the stove to reach maximum efficiency. If you note in the photo above the air inlet door is open quite wide, which is why it is burning like a rocket.  If you close this up the flame drops down and it burns less intensely due to the reduction in oxygen. You can adjust the cooking heat by opening and closing this door, it really does make a huge difference.
I tried the stove with wood and charcoal, I found that wood creates the best quick intense heat and is probably best for cooking meals that cook in 30 minutes or less. I found the charcoal didn't give off the same amount of heat, but it burnt for ages, with three handfuls of coals burning for 2 hours plus, which would make charcoal a great option for slower/longer cooking dishes. When cooking with wood I would say the stove gives off around 80% less smoke than a campfire. It probably uses around 70% less wood due to its efficiency and the intense heat it generates.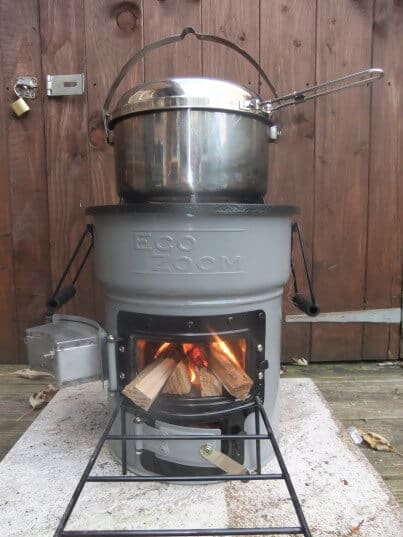 The EcoZoom Zoom Versa also comes with a pot skirt (see the video above), which I didn't really get on all that well with, and for some reason, I forgot to photograph it! I have spoken to EcoZoom about this and my feeling is the issues I experienced were due to using a relatively small 3-liter pan (see photo above). I had an issue tightening the skirt to the pot and it slid off when lifting the pan from the stove, which could be dangerous. If you watch the video about you will notice they use a much larger cooking pot. I can see how this cooking skirt would work much better with larger pots and woks etc. In my experience, it doesn't work too well with smaller pots.
Conclusion
The EcoZoom Zoom Versa currently costs $129 in the US, and £116 in the UK/EU, but the really cool thing is – both come with FREE shipping, which given the 12KG weight is a huge plus. Another cool thing is that for every EcoStove model sold, EcoStove also donates the same model of a stove for free to projects in developing countries. For that price, you are getting a premium well-made product.  I can't see anyone purchasing one of these stoves being disappointed or think that it isn't worth the money. They are built to last and you can see/feel where your money has been spent.
Due to its rocket stove design and the insulation, it is an incredibly efficient stove for cooking on, you really do get much, much more heat from much less fuel. Once going it is also all but smokeless. The fact that you can regulate the cooking temperature by adjusting the air intake door is a huge plus over other outdoor cooking stoves.  It allows you to quickly boil water but then adjust the heat for longer slower cooking with a large pan or a Dutch oven.
The bottom-line – the only negative I have is about the adjustable pot skirt and smaller pans.  It can be dangerous, but it isn't really an issue as you simply don't need to use it for smaller pans anyway, such is the efficiency of the stove. I can see how/why the pot skirt will work better with larger pans, but I would still advise caution when using it as it does get extremely hot. I simply didn't use it and I still thought the stove was awesome.
I think the EcoStove Zoom Versa is a great option for vehicle camping/touring, festivals, emergency preparedness and for general outdoor cooking as an addition to the barbecue. One of these next to the barbecue with a wok/skillet on it will take your outdoor eating experience to the next level.
Whilst it is quite heavy, it is still compact and portable, so it can be stored out of the way at home or in a vehicle. This also makes the Zoom Versa a particularly excellent choice for emergency preparedness for people living in towns and cities where they don't have the space for open fires or access to limitless fuel.
All in all the EcoZoom Zoom Versa exceeded my expectations and I would highly recommend it to everyone reading this and to friends and family. The fact that EcoZoom also donates a stove to third world projects for every stove sold also makes this a nice feel-good product to purchase as well. Not only are you helping yourself, but you are also helping a family in the third world.
The EcoZoom Zoom Versa currently costs $129 in the US (click for US store), and £116 in the UK/EU (click for UK/EU store). You get FREE shipping from both stores!
Both the EcoZoom US and EcoZoom UK/EU stores have agreed to give K.W.N visitors 10% off their orders until the end of January.
To claim your discount, use the discount code: KWNUK20 during checkout.