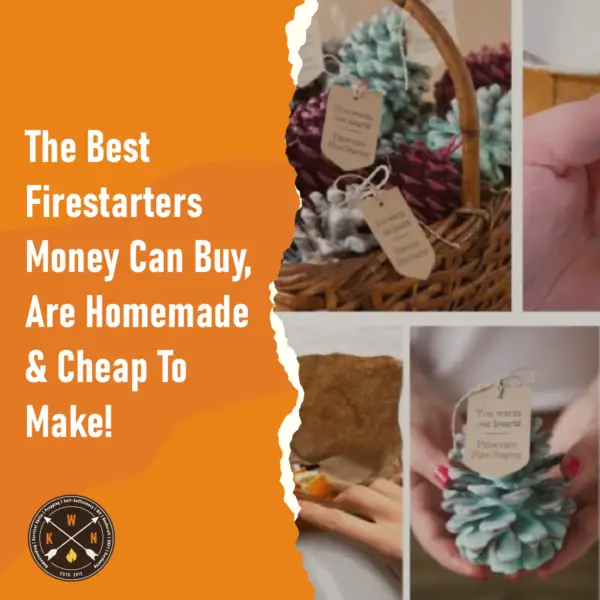 You might think it looks easy to start a fire in the wilderness, but it's not… Additionally, it's also not always all that easy to light a BBQ or wood burner at home either.  Everyone, no matter how proficient at starting fires, can benefit from having some cheap and easy to make firestarters ready to go. These simple to make firestarters are cheap as chips to make and you can literally make 100s in ten minutes or so. They are also highly effective. In most cases, one or two of these babies will do the trick.
BTW – if you are interested in wilderness survival, the outdoors, or prepping/SHTF, you might want to check out our Military eBay post and find out how you can purchase a whole range of ex-military goods, equipment and even vehicles at very low prices. Literally, everything from army clothing, communication equipment, ex-army field generators, shipping containers, to humvees and other vehicles.
These DIY firestarters are made from melted candle wax and some cotton cosmetic pads, but you could also use cotton-balls too.
Method
Simply melt some candle wax in a pan –  TIP – save the ends and melted wax from old candles to make these with.
When melted, remove from the heat and put the cosmetic pads or cotton-ball in the pan. Mix them around so they soak up the wax.
When the pads/balls have absorbed the melted wax, remove them from the pan and place them somewhere to dry and harden.
Once they have dried, place them in a Ziploc bag or similar and use them when required.
When needed – if you have matches or a lighter, just light an edge and they will start burning like a candle. If you are using the sparking method of ignition like fire steel, first scratch off some of the wax on an edge and fluff up the material so it better takes a spark. Once lit these last for ages and ages and they'll help you get a fire going even in the most difficult of conditions.
These firestarters are similar to the petroleum jelly cotton-ball firestarters most people know about, but the huge benefit of these wax ones is they are much cleaner to use and store. With the petroleum ones, you can't help but get petroleum jelly everywhere.