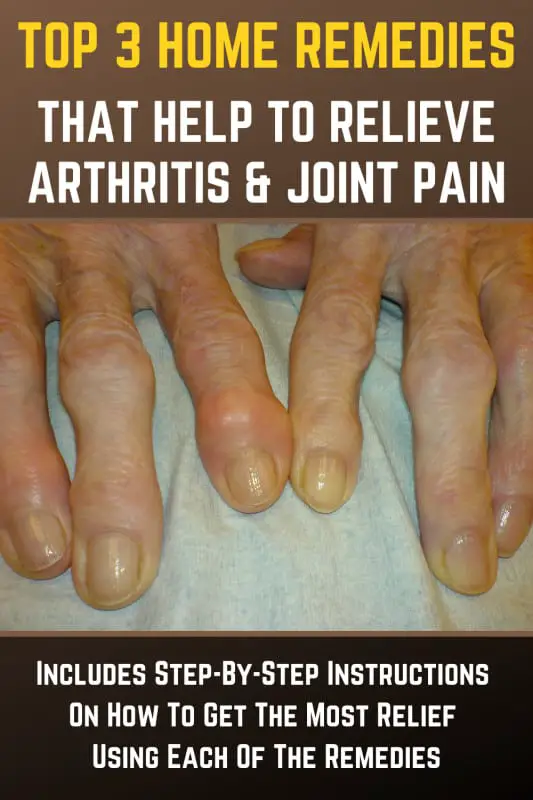 Arthritis and joint pain are common among all genders and all ethnic backgrounds, and it's characterized by stiffness, swelling, and overall fatigue. Like many other conditions, joint pain can be attributed to a myriad of underlining health conditions, such as obesity and malnutrition. While you should speak with your physician before starting any natural home remedy, especially if you're taking medications, the following natural remedies use a combination of science and holistic belief to provide relief to this sometimes debilitating condition. I also highly recommend reading our post about the health benefits of turmeric tea as turmeric has been proved to help reduce inflammation and joint pain.
Epsom Salt Bath for Joint Pain Relief
The active compound in Epsom salt is magnesium sulphate, which has been utilized for centuries as a means of providing pain relief. When submerged, the compounds in Epsom salt are absorbed through your skin and immediately begin providing pain relief by reducing joint inflammation and calming your mind by increasing the production of serotonin.
How to Use
Step One – Fill your bathtub with lukewarm water. Make sure the water is not too hot or too cold. You'll want to be able to rest comfortably for 10 minutes without overheating.
Step Two – Pour 1 to 2 cups of Epsom salt directly into the bathwater.
Step Three – Using your hand, mix the salt into the bathwater until it is fully dissolved.
Step Four – Fully submerge your body into the bath and relax for 10 to 15 minutes. Focus on calming your muscles and joints throughout the bath. Repeat once a day to help keep inflammation at bay.
Olive Oil Rub
Olive oil has been used as a medicine and culinary ingredient for thousands of years. When it comes to relieving pain due to arthritis or joint inflammation, researchers have found that by massaging the oil directly into the joints, it's able to provide pain relief and inflammation reduction. Researchers believe olive oil reduces joint pain due to a compound known as oleocanthal, which inhibits the production of inflammation-causing enzymes, COX-1 and COX-2. In fact, just 1.5 tablespoons of virgin, or cold-pressed olive oil features the anti-inflammatory action of 200 milligrams of ibuprofen.
How to Use
Step One – Pour 2 to 3 tablespoons of EVOO, or extra virgin olive oil, into your hands.
Step Two – Gently massage the oil directly into your aching joints up to three times per day.
Soothe Away Your Joint Pain With Essential Oils
While you may not be able to eliminate arthritis or joint pain from your life, the topical application of certain essential oils is known to soothe joint pain and provide 'cooling' relief. The two most effective oils for this purpose include eucalyptus oil and peppermint oil. Both substances feature pain-relieving, or analgesic, compounds capable of soaking into your skin and temporarily eliminating deep joint pain. If you have sensitive skin or conditions such as eczema, speak with your physician before application.
How to Use
Step One – Place 2 tablespoons of extra virgin olive oil into a dark-coloured glass bottle, which should seal shut with a dropper.
Step Two – Add 5 to 10 drops of eucalyptus oil and 5 to 10 drops of peppermint oil into the container.
Step Three – Close the lid to the bottle and shake the ingredients for 30 seconds to ensure they're properly mixed.
Step Four – With the dropper, place 5 to 10 drops of the mixture into the palm of your hand and gently massage into your aching joints. Repeat whenever you need immediate pain relief. Store the oil blend away from direct sunlight to protect its active properties.
(Image from: Wikipedia)