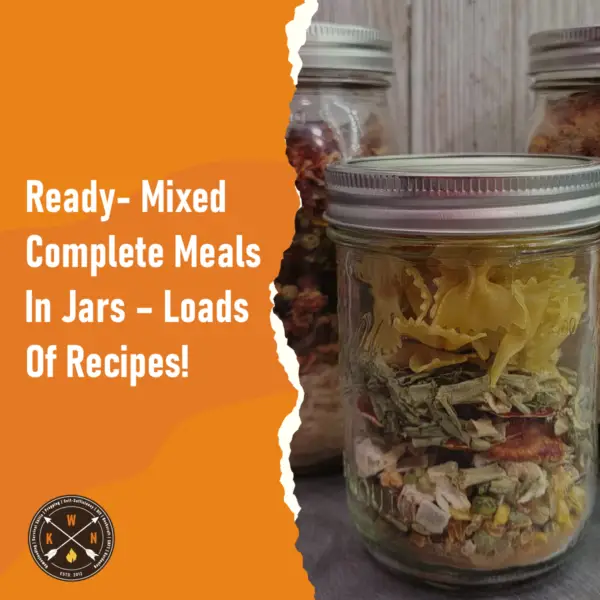 Over the years, we have featured several shorter posts about complete meals in jars. These are ready weighed and measured dry mix meals, which are stored in jars, ready to go. When needed, simply pour out the contents of the jar, add water, and cook until ready. Jar meals are very versatile. In fact, if you substitute a jar for a Ziploc bag, these meals are also great for camping and hiking too.
I have rounded up all the smaller readymade jar meal posts here in one place for ease.
Dry Pre-Measured Complete Meals In Jars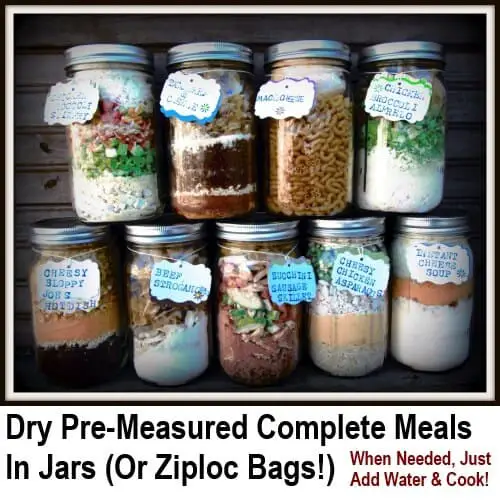 What a great idea!  Measure out all the dry ingredients for the meals and then store them in jars.  When you need one, just pour it out into a pan, add water and cook.  How simple and excellent is that… Complete, ready to go meals in a jar – Mason jar meals, what's better than that?
It offers a nice alternative to simply storing dry foods in bulk.  If you mix up some of your storage food like this, you'll have access to a great nutritious meal in minutes. You could have a great morale-boosting Mason jar meal with the minimum of fuss. Certainly beats a quick meal of rice and beans, which is what I would likely come up with, without these great full meal recipes.
As well as making up some meals in a jar, you can make these meal mixes in Ziploc bags take them camping and hiking etc.
Get over to Rainy Day Storage, check out the recipes.
Dry Pre-Measured Complete Meals In Jars: Rice Mixes
A few days ago we did a post about Dry Pre-Measured Complete Meals In Jars by Jennifer from Rainy Day Food Storage. This was so popular, I am back with some more recipes for pre-measured dry meals in jars and today it is pre-mixed dry rice mixes.  As with the previous dry mixed meals – when you need one, just pour it out into a pan, add water and cook.  How simple and excellent is that?
These mixes would be great for preppers and survivalists, but also campers, hunters and hikers (obviously store the mixes in sealed bags, not jars…).  I bet they taste amazing after a day on the move in the wild.  I bet they smell amazing too. Check out the recipes
Ready-Made Dry Mix Desserts In Jars
The thing is – all of the previous jar mixes have pretty much been the main meal, savoury mixes, and no desserts. I couldn't let this lie as you just have to have a few stored desserts as well. Luckily Rebecca over at 'Cul-De-Sac Cool' has created some dry mix desserts in jars recipes. Not only that though, but she has also created the labels with cooking instructions etc, that you can print out. Check out these awesome dessert recipes.
All-Purpose Quick Mix For Biscuits, Shortcakes, Griddle Scones, Coffee Cake & Quiche
A recipe for an all-purpose quick mix that can be made in large batches and stored for use as needed. With this quick mix and a few quick additions, you can make biscuits, shortcakes, griddle scones, coffee cake & self-crusting quiche.
There are also 100s of other delicious mixes and recipes, including a gingerbread mix, brownie mix & various bread mixes. See here: All-Purpose Quick Mix & Other Delicious Recipes 
Powder Soup Mixes; Equal To One Can Of Condensed Soup – Just Add Water And Cook
A while back we did a post on Dry Pre-Measured Complete Meals In Jars from Jennifer from Rainy Day Storage.  Today I am back with another set of dry mixes from Jennifer; this time it is dry soup mixes.
There are recipes for three different soups – the cream of mushroom, cream of chicken and cream of celery. Each mix makes approximately the same quantity of soup as the Campbells equivalent, but for a fraction of the cost.
These dry mixes can be made up and stored well in advance.  When you want some soup – simply pour it into a pan, add water and cook! Simple! Check out these soup can recipes

Also for more info on emergency food storage, check out: Emergency Food Storage & Survival Handbook: Everything You Need to Know to Keep Your Family Safe in a Crisis