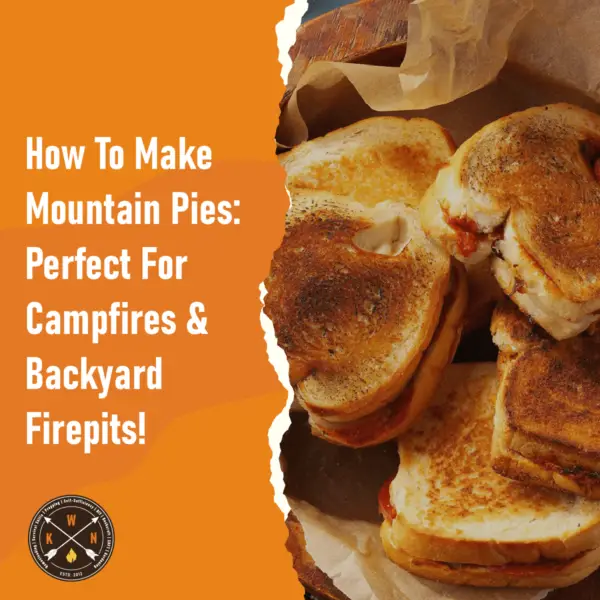 If you don't know what a mountain pie is, it is basically a grilled sandwich that is cooked on a campfire, in a small device called a mountain pie maker. Mountain pies are also sometimes known as 'hobo pies'.
A mountain pie maker is like a small cast iron skillet with a lid and a long handle. Mountain pie makers can be purchased for between $15 and $50. The one we use and highly recommend is the Rome 1705 cast iron mountain pie maker. It can be purchased from Amazon for around $20. If you purchase one, I can all but guarantee you that it will become one of your favourite things ever. In fact, you'll probably go on to buy several… We did.

How To Make Mountain Pies
You prepare your mountain pie, the same as if you were using a grilled sandwich (toastie) maker at home. We like to butter the outside of the bread (so it crisps and doesn't stick) and then add our fillings in the sandwich. Our favourites are cheese, cheese and onion, and cheese and ham.
Once assembled, place your sandwich in the mountain pie maker, close it, and hold it in the campfire to cook (think roasting marshmallows but bigger). Cooking time can vary depending on the size and heat of the campfire so check often until your sandwich is cooked to your preference. Once you have made a few mountain pies you will get the hang of it.
When ready, very carefully remove your sandwich from the mountain pie maker. Please be very careful when doing this as the cast iron mountain pie maker is obviously extremely hot.
Now enjoy! Mountain pies are truly one of the most delicious and satisfying things you can cook outdoors on a campfire or firepit. We make them on the firepit in the back yard all the time. The kids absolutely love making them.
If you are considering getting a mountain pie maker, we have several of the Rome 1705 mountain pie makers and we can highly recommend them.