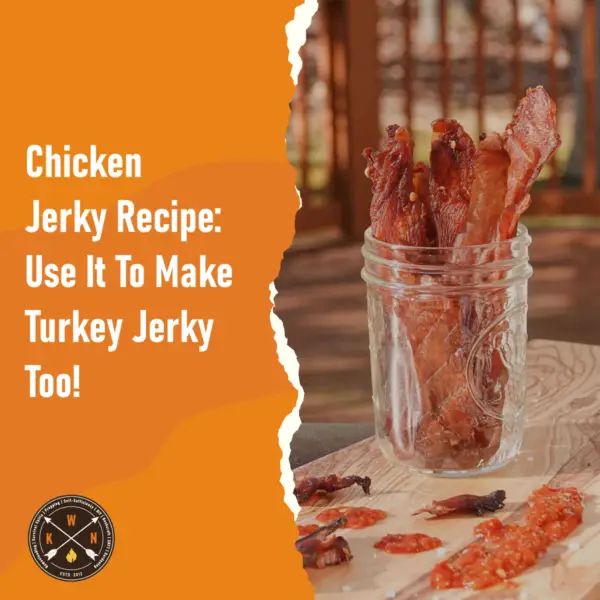 Chicken jerky is a nice alternative to beef jerky and it makes a great high protein and low-fat savoury snack  This recipe can be used to make chicken or turkey jerky.
Simple Chicken Jerky (Or Turkey Jerky!) Recipe
You will need:
3-4 chicken (or turkey) breasts (whatever your dehydrator can handle)
1 cup of soy sauce
2 tablespoons Worcestershire sauce
1 teaspoon black pepper
Ziplock bag
Dehydrator
Chicken Jerky Instructions
Cut the chicken into 1/4 or 1/8 inch strips.
In the Ziploc bag – add the soy sauce, Worcestershire sauce and black pepper. Seal the bag and give it a good, but careful shake, to mix the ingredients.
Add the chicken strips to the marinade in the Ziploc bag and seal and leave to marinate for at least six hours in the refrigerator.
Space the pieces of chicken out on your dehydrator trays(s) and set to the highest temperature (usually 145 degrees), for five to seven hours, but keep an eye on it. It's ready when dry.
Many people are happy to eat their chicken jerky at this stage, although many others will rightly be concerned about whether all the bacteria that can be found in raw chicken, has been destroyed with the low temperature of the dehydrator. With this in mind, you can also finish your chicken jerky in the oven for 10 minutes at a temperature of 275 degrees.
If you don't have a dehydrator, you can also make chicken jerky or turkey jerky in a conventional oven. I don't have any experience of this, but if you follow the instructions above and then place the chicken strips on a grill rack (or similar) and bake at a low temperature of around 200 degrees, you shouldn't go far wrong, as long as you keep an eye on things…
That said – if you don't have a dehydrator, why not? You can get the very popular Nesco American Harvest Dehydrator for between $35-39 on Amazon (the price fluctuates from day to day). This Nesco dehydrator is an excellent low-cost investment, as you can also dehydrate other meats as well as fruits and vegetables too.
 (Image from: Bing/Flickr)