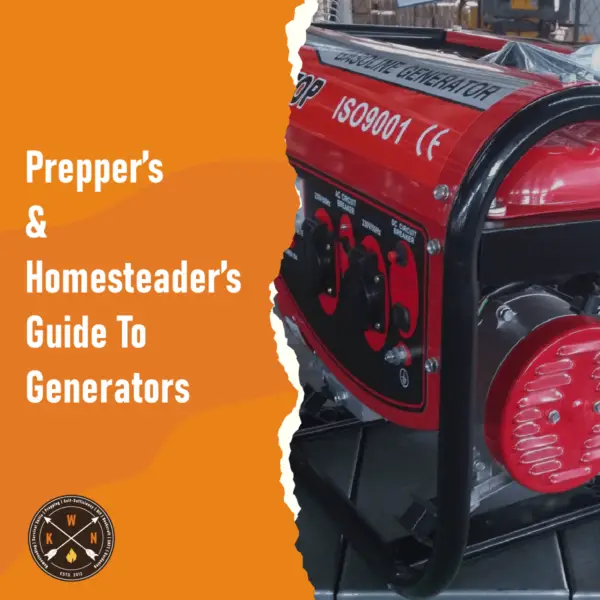 For most people, buying a generator to power their household is probably the last thing on their mind. But what happens when there's a major storm, earthquake or a SHTF disaster/scenario that knocks out the power? Even in the best of conditions, the average household will lose power on 3 occasions per year and these outages might last hours or even days depending on the cause.
Considering this, generators are an essential piece of equipment to consider purchasing. They allow you to cook your food, keep your fridge running and charge/power your electronic devices – something that's becoming more important given how connected we all are, and especially in the current climate when many of us have converted to homeworking.
If you are considering buying a home generator, read on, as there's a load of relevant information and advice to help you make your choice.
Household Priorities
There are lots of different types of generator and the one you'll need will be determined by how many appliances you need to power in the event of an emergency.
You'll need to aim to cover the basics so your home can function relatively normally during a power outage.
Refrigerator: 600 watts
Air conditioning: 1000 watts
Lighting: 600 watts – depending on the time of year
Computers/phone chargers: 300 watts
Washing machines – 1000 watts
Security system – 400 watts
Hairdryer – 1200-1400 watts
Oven – up to 5000 watts
Toaster – 1100 watts
Water heater – 3500 watts
Based on these essential items, you'll probably need to look at a minimum wattage of 5000 watts.
To help you decide your own specific needs, Amazon has a nice chart detailing the running wattage and surge (startup) wattage for a range of common household appliances – you can download here – household appliance wattage chart.
Selecting the Right Generator for Your Needs
There are 4 main types of generator fit for home use.
Home Standby Generators
— Pros
User-friendly – They'll let you know if they need a service or encounter an error and you can even set this up via email or SMS.
It can be fuelled by propane, gasoline, or even natural gases, which make it easier to fill and provide unlimited energy.
Covers a wide range of wattage, so you'll find one suitable for any household.
— Cons
The most expensive of the 4 types. Depending on the amount of power you need, they can cost between $2000 and $6000.
The most difficult to install. You'll need a professional to work out the best positioning for your home. Factor in extra labor costs for this too.
Can't be moved in the event of harsh weather or flooding so aren't suitable for all homes.
Recommended for: Frequent power outages.
Portable Generators
— Pros
Relatively cheap. You can pick one up for anything from $600-$2500.
Obviously, they're portable. They're the easiest generator to move around if you plan on taking a trip.
— Cons
Not flexible with fuel type and generally require gasoline. This can be difficult to get hold of, especially as the very reason that you're using a generator might mean you can't leave your home. Gasoline is also dangerous to store for long periods of time.
Most likely to give off carbon monoxide, so it's recommended to run them from an area at least 20 meters away from your home and never leave it in an enclosed space.
You'll need to ensure it's always covered as they don't do well with rain.
Recommended for: Frequent power outages, Occasional power outages, Travel.
Inverter Generators
— Pros
The quietest generators and are incredibly sophisticated when it comes to fuel economy. They'll scale down the fuel used when you're not using as much power and consequently, they're much quieter – the sound grows as you turn on more appliances.
Range from 1500 -6000 watts – one of the most powerful household generators out there.
Come in different sizes depending on your needs, so can be light and easy to transport if you don't need masses of power.
— Cons
Similar in power to portable generators but are technically more complex. This means they cost a little more – up to $4000.
Recommended for: Frequent power outages – Large inverter, Occasional power outages – Midsized inverter (a slightly smaller and cheaper model).
Portable Power Stations (Also known as solar generators)
— Pros
The quietest generators as there's no engine to make noise.
Don't use fuels so they can be kept indoors. There's no risk of carbon monoxide leakage.
— Cons
Have a battery that needs to be charged, so you'll save money on fuel, but unfortunately, you'll need to remember to keep it charged. Usually, the reason that you'll need the generator is that your electricity is out – it's no good needing to charge it at the time.
You can switch the generator to charge on solar power, but this relies on you living in a warmer climate, so consider the weather before you decide on this.
Costs around $4500-$6000 – purely because they're the newest to the market.
They don't have a large amount of power in comparison to the other generators, usually around 1200-1500 watts at their maximum.
Recommended for: Travel, Infrequent outages.
Are Household Generators Dangerous?
People often avoid purchasing a household generator because they've heard horror stories about the dangers of carbon monoxide poisoning.
The truth is generators can only cause carbon monoxide issues if you don't purchase one that's suitable for your home or if you don't provide the proper care to keep it in perfect working order.
These days, generators usually have a sensor to let you know that there's a carbon monoxide issue and may have a Lo-CO engine which is another great feature to protect against carbon monoxide overload.
There are also some standard guidelines that you should follow to ensure that your generator is used safely, whichever model you choose:
Keep the generator around 20 meters away from your home in case of a leak
Don't store in an enclosed space
Keep away from air conditioning units, windows, and doors
Get it serviced yearly
Transfer Switches
A transfer switch is a necessary safety feature that you should invest in. It'll connect your generator to your circuit breaker via a single cable, making the energy transfer much more linear. You'll just control the power to your home using a single switch. It's recommended that you have a professional electrician install this for you as it can be a difficult process.
The Red Cross has a useful article about safe generator use at home – check it out here. Here's an additional generator safety article from energy.gov.
Features to Consider
It might be a bit overwhelming to browse through all the special features of each generator, especially if you're new to this. Let's look at the common features and why you might need them.
Auto Shut-off – automatically turns off the generator if it detects harmful levels of carbon monoxide
Auto Turn-on – If you're into automation, some generators will automatically switch to back up power as soon as your mains power goes off, meaning you're never left without electricity
Removable Console – Allows you to connect devices remotely without having to trip over extension cables
Separate outlets – Spreads the power evenly. This is great for camping or travel
Fuel Gauge – Tells you how much fuel is left in the generator so you know when to fill up
Electric Start vs Pull Start
Pull start generators generally have more power and always use gasoline or propane.
Electric start generators are great for convenience and much less work as they just have a button to push to turn on the power. However, these generally have a much lower wattage to pull-starts, so think about what you intend to use it for.
Summary
Hopefully, that's given you some insider info on household generators and their uses. Make sure you always do your research before making a purchase to ensure you're getting the right wattage for your needs and always get it serviced. Safety first!