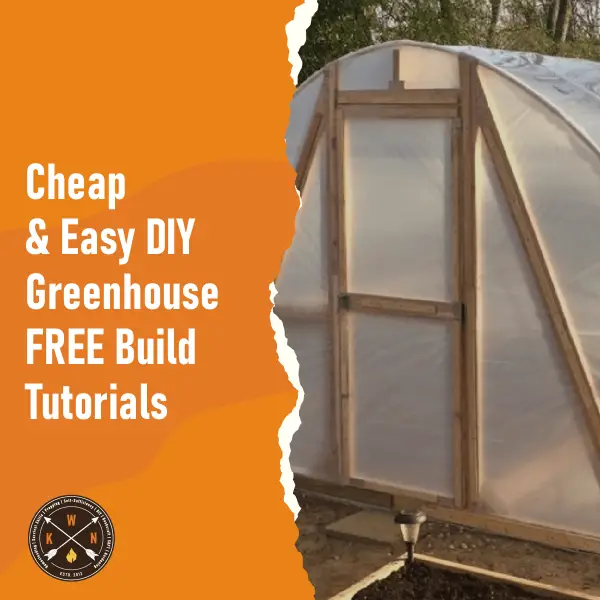 Below we have a round-up post comprising several shorter DIY greenhouse tutorial posts, we have done over the years. There are all together here in one post, so you don't have to go searching for them.
13 Cheap & Easy DIY Greenhouses
It's the growing season again (or maybe not depending on where you live), hence all the gardening posts on K.W.N recently. There will be more emergency preparedness and survival posts shortly, but I am just too excited with the new growing season right now. Also now is obviously the best time to share gardening related stuff with you guys…
We have featured one or two of these DIY greenhouse tutorials already on K.W.N, but I just stumbled on this list of 13 cheap DIY greenhouse tutorials. Some of them are really cheap, so if you want a greenhouse on a budget, and you don't mind a bit of DIY to make it happen, check out the list of tutorials below.
13 Cheap & Easy DIY Greenhouses
Free Step By Step Plans To Build A Barn Style DIY Greenhouse
When I come across FREE DIY plans I have to share them, this one, in particular, took my eye because the step by step instructions are fantastic.
It is always a good idea to have a greenhouse because you can grow food better and stronger in one. This "barn style" is especially good because it has good strength and is solid because of the walls. This DIY greenhouse is relativity cheap to build too, which is a plus.
Free Step By Step Plans To Build A Barn Style Greenhouse
How To Build A $50(ish) Homemade Greenhouse
Ok, firstly I should clarify the cost of the greenhouse; David the guy who built it did if for $50, but he had a lot of stuff already laying around that he could reuse. If you are buying absolutely everything brand new, it will likely cost around $150, but that is still cheap for such a large 165 square foot greenhouse. If you can recycle and reuse some of the materials, you'll be able to do it for much, much less. I think that given what I have laying around and what I can acquire cheaply or for free, I could build this greenhouse for around $70…
The original tutorial has several updates that David has added down the line.  These include things he would have done differently if starting over and some tweaks to the design. Make sure you read these before attempting to build.
Huge & Inexpensive Hoop-Style DIY Greenhouse
This tutorial from 'Alberta Home Gardening' is the first tutorial for a very big greenhouse, though. You could easily grow enough tender fruit and vegetables in a greenhouse of this size to feed the whole family. This greenhouse is the ideal size for a family homestead.
This DIY greenhouse is 12′ by 32′ and the total cost came in at under $400. $400 is a lot of money, but to purchase a greenhouse like this one, would cost $3000+, and a greenhouse of this size will allow you to grow a whole range of crops in large quantities. If you are serious about growing enough food for your family, I highly recommend getting a greenhouse around this size. Check out the awesome step-by-step tutorial below.
DIY Huge & Inexpensive Hoop-Style Greenhouse
FREE DIY Plastic Bottle Greenhouse Plans
So this is pretty awesome, but I hear some of you saying – that's a huge amount of soda to get through to build a greenhouse! And of course, you are right, but I don't for one moment expect anyone to be able to build this greenhouse with just the soda bottles they save… That would be crazy! But there are ways.
For example – my daughter's school is building this greenhouse. Between the staff and kids, they managed to get all the plastic bottled they needed in a few weeks. You can ask friends and family to save their bottles, you could ask local businesses to save their bottles, you could even go to your local recycling centre and see if you can take a load off their hands. Where there's a will, there's a way. Download the FREE DIY build plans on the link below.
FREE DIY Plastic Bottle Greenhouse Plans
How To Build A 300 Square Foot Hoop House For Less Than $500
Our friends over at Natural Living Ideas have just created an amazing post/tutorial detailing how to build a huge 300 square foot greenhouse for less than $500. That's right, 300 square feet of protected growing space for under $500! But that's not all – this 12'x24' hooped greenhouse has a ceiling height of 6'8" ceiling height and the design makes it pretty windproof as well.
This really is a high-quality tutorial – it includes detailed advice on choosing a location for the greenhouse, tips for preparing the ground, and step-by-step technical information on how to build the actual structure.
If you have ideas about living off-the-grid or being self-sufficient, you really want to be looking at building a hoop-style greenhouse around this sort of size, so you can feed your whole family and generate plenty of food to preserve and store as well.
How To Build A 300 Square Foot Hoop House For Less Than $500