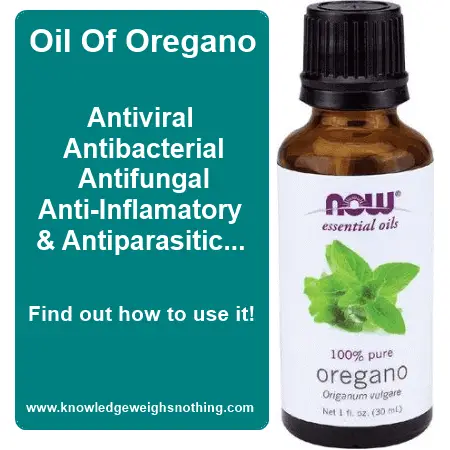 Oil Of Oregano is a first aid and home remedy powerhouse! It has antiviral, antibacterial, antifungal, antiparasitic and anti-inflammatory properties… With all these medicinal properties, it is no wonder oil of oregano is so useful in treating so many different ailments and conditions…
As with most essential oils, you get what you pay for – oil of oregano and good quality oils don't come cheap, so don't be tempted by cheap oils.  The good news is that whilst a 1oz bottle will set you back around $15, a little goes a long way, and that bottle should last you ages. Check out the link below to find out how to use oil of oregano to treat a whole range of conditions. Please also note the cautions at the bottom too.
Oil Of Oregano: Antiviral, Antibacterial, Antifungal & More…
If you want to purchase some oil of oregano, we have never been let down by  NOW Essential Oils, so check out their Oil Of Oregano on Amazon.