30+ Different DIY Cabin Plans
Let's get one thing out of the way quickly – the cabin in the photo above is not in the plans. It is the only nice looking newly built cabin, that I had permission to use! That said, don't be put off for one moment as below you'll be able to find 30 different sets of cabin build plans…
The list of plans below includes everything from small single room cabins, right through to full sized family home cabins. There's also everything in between. Given that you can pay $100s for cabin build plans, this is a pretty cool resource. My recommendation is – if you see a cabin you like, download the build plans right away whilst they are free. It's better to download the plans now, but never use them, rather than wish you'd downloaded them and not being able to find them in a year or so. Get them here: FREE: 30 Different Sets Of Cabin Build Plans
How To Build A 12×20 Foot Cabin For $2000
Want to build a low cost, quality cabin that would make accommodation for guests? Got a bit of land for your secret bug-out location which needs an affordable cabin? Answer yes to either of these questions, then you've come to the right place!
Below is an excellent step-by-step tutorial showing how to build a 12×20 foot wood cabin for $2200. It is a full build tutorial with details, measurements, and materials. The cabin has a door and window at the front and double windows at the rear. The cabin is also wired for electricity with lighting and power points. Find out more: How To Build A 12×20 Foot Cabin For $2000
(Photo from: coolbeansbaby68 via Instrutcables)
Traditional Log Cabin Built For Less Than $500
$500 for a quality, traditional wood cabin, that's crazy talk, right? Well, that is what I thought until I watched the video above which tells the story about this DIY log cabin and how it was built…
It really does emphasise the power of community, and roping in friends and family to help out on a project. Sure the cabin took eight months to build using free labour, but the whole project cost just $500. Seems an awesome trade-off to me. Watch the video and see what you think.
How To Build A House With No House Payments Or Utility Bills
No house payments and no utility bills, that's the dream, right? Well, maybe that dream isn't as far-fetched as you might think!
The video above shows how one guy built a cabin for $2000, drilled his own well and installed a solar power system which provides for all the electricity needs which cost an additional $3000. One thing to note is that the land he has, which is a little less than an acre, was gifted to him, although he does go on to say he has purchased similar plots of land for around $400. Finally, the last thing to note is that this video was uploaded in 2009, but even if you increase the costs in-line with today's costs, this really is a great demonstration of what can be done with a minimal budget and a bit of hard work.
How To Build An Earthbag Roundhouse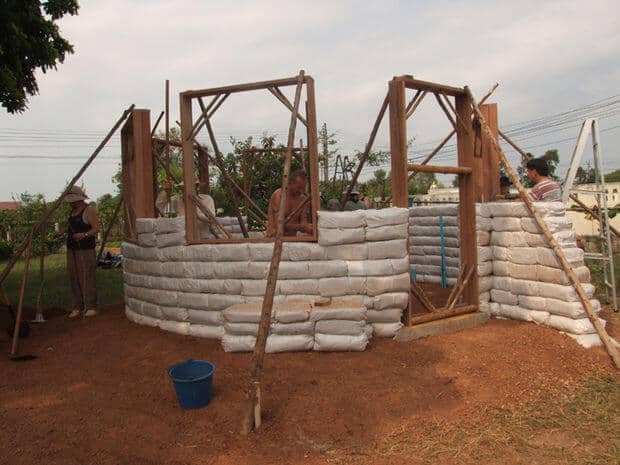 A while back I did a post: How to Build an Earthbag Dome this was a windowless dome building which would make a great root cellar or storage shed. Today I am sharing a tutorial to build an earthbag roundhouse, complete with windows and doors.
This is very cheap and easy way to build a one room dwelling.  The cost per sq foot of living space is just $11.50; anyone in the construction business knows that is crazy cheap….
The finished house looks beautiful, inside and out. The outside is plastered and whitewashed and it has a thatched roof, have a look and see how nice it looks. I can't see why you couldn't build several of these alongside each other to create a larger multi-room home. Check out the photo tutorial: How To Build An Earthbag Roundhouse
(Photo from: Owen Geiger via Instructables)
How To Build A Dirt Cheap House
If you have always dreamt of building your own house or bug-out house/retreat, but you have been put off by the high build costs etc, this could be right up your street…
The post below explains that by using, and knowing how to build with, locally available natural materials such as earth, small diameter wood, and straw, you can keep expenses to an absolute minimum. In fact, build costs can be as low as $10/sq. ft. With build costs this low, it opens the doors to the possibility of many more of us being able to build our own houses. Find out more: How To Build A Dirt Cheap House
(Photo from: Owen Geiger via Instructables)
Amazing Forest Home Built In 6 Weeks For $4,000
This might just be my favourite cabin ever! Can you imagine if this was your weekend and holiday retreat? It would be amazing, I feel less stressed just looking at the photo, let alone spending time there…
The cabin is absolutely beautiful inside and out (check out the sink!), and the crazy thing is that it was built in just six weeks for a budget of $4000. I wish I could share all the photos of the cabin here, so you can see how beautiful the inside of the cabin is, but I can't. But if you click through to 'Tree Hugger' via the link below you can check out all of the awesome photos there. I love the hillside, treehouse style rear porch! See them here: Amazing Forest Home Built In 6 Weeks For $4,000
(Photo by: Herrle Custom Carpentry via Treehugger)